Even Odds by Elia Winters: Isabel loves her job in the world of video game design. But she's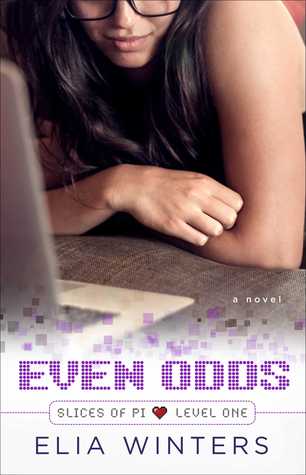 had to learn the hard way about being female in a male-dominated world. She's carefully cultivated an image and reputation of not being overtly female or having a sexual side. So, she takes herself and her co-workers by surprise when she joins in their scavenger hunt while working a convention. She's ready to let her hair down and just have fun.
Caleb loves his art, but that doesn't mean it pays the bills. He's still feeling the loss from when the company he started with his best friend went under. He's also more than ready to find a new job out of town to put some space between him and his lawyer parents.
Caleb just happens to be at the same convention, where he's able to help Isabel in more than one way. Both are stressed for their own reasons and could use a distraction. Their one-night stand becomes a weekend fling that neither can forget. Isabel was banking on the fact that she would never see Caleb again once the convention was over since she doesn't make time for romance in her life. And Caleb did happen to leave out the minor detail that he could be her co-worker at PI Games in a matter of weeks.
"I would have wanted to, but I would have been too shy."
"You don't strike me as very shy." Caleb's lips twitched. The bastard was trying not to smile.
"I told you already, the Isabel you met at DiceCon isn't the real me."
Their fling didn't really end on the best terms, so Isabel is less than pleased when Caleb shows up at the office. They are forced to work closely together to develop a new video game she's managing, but they find that what happened at Dice Con doesn't exactly stay in Dice Con. They have great chemistry, a lot in common, and both are awkward with romantic relationships.
"Maybe we should start fresh," Caleb suggested. "Put all this behind us. Really work together as if we've never met."
Isabel felt a flood of relief, her shoulders relaxing. "That would be great. I'd like that."
"So all is forgiven?" Caleb asked, leaning in a few inches, his expression earnest.
Even Odds is a workplace romance where for each step forward, they take at least one step back. Elia Winters developed an interesting pairing with their competitive natures and need to prove themselves. Ms. Winters created an interesting cast of characters at PI Games. Fans of Amanda Ashby and Cate Cameron will enjoy Even Odds.
Book Info:

Publication: July 4th 2016 | Pocket Star | Slices of Pi #1
Geeky meets kinky in this first deliciously sexy novel in the Slices of Pi series by RITA-nominated author Elia Winters, which follows the romantic rendezvous of the employees at PI Games, a gaming company based out of sultry Florida.
As a design manager at PI Games, Isabel Suarez is no stranger to the struggles of being a woman in a male-dominated industry. But when her team attends a gaming convention on the other side of the country, she figures there's no harm in putting aside her professional demeanor for one weekend to participate in a risqué scavenger hunt. Why shouldn't she let loose and have a little fun?
A careless romp soon turns into more, however, when Isabel ends up having a fling with Caleb Portland, an artist and animator, without knowing he has just been hired to partner with her at her company—and Caleb can't bring himself to tell her. When they end up coworkers a few weeks later, they need to find a way to work together and keep things strictly professional. Caleb doesn't want to take on a relationship and risk failure. Isabel doesn't want to risk ruining the professional reputation she's worked so hard to develop. But when faced with the undeniable sizzling chemistry between them, will either of them be able to resist temptation?
A sexy and witty tale of romance and modern workplace politics, Even Odds is the latest winning entry in Elia Winters' unique and well-loved erotic novels