In Even Vampires Get the Blues (Deadly Angels #6) by Sandra Hill, Finally getting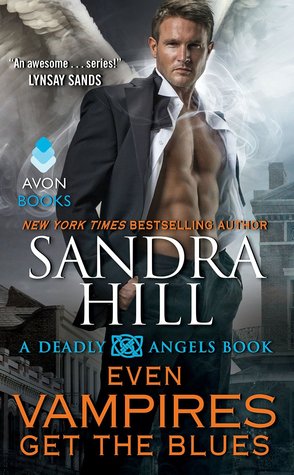 sprung from his current location (prison is what it felt like) in Siberia, Harek Sigurdsson has a new assignment in sunny California. It might seem odd for a Viking vampire angel to be sent to work with a Navy SEAL team to take out a terrorist group, but Harek is happy to leave the snow and ice behind. Once he meets Camille Dumaine, however, he knows he was sent here to find his life mate as well as kill demon vampires, Lucipires, on their mission. But is Harek ready to settle down with the feisty woman?
"I want you so much my heart is racing and my hands are shaking.I'm afraid to step closer to you because my knees might buckle. I'm one thousand, one hundred, and ninety-five years old, and I have never felt this way about a woman before."
Camille is unlucky in love. Thankfully she has a career in the Navy WEALS (Women on Earth, Air, Land and Sea) program to focus on. When she first notices security and tech specialist Harek, she thinks he's hot, but looks high maintenance. Then weird things begin to happen like the electricity that courses between them from a handshake, and how he smells like chocolate, which is her only addiction. As they gear up for their big mission, Camille is suddenly part of a world that is both frightening and seductive. I mean, how could Harek truly be a Viking from millennia ago? And a vampire who claims she is his intended mate? She might have grown up around the woo-woo in New Orleans, but she's not sure even she can believe Harek's story.
'…She noted, once again, just how attractive Harek was. Even today, wearing faded jeans and a ratty old gray T-shirt with the logo "Mensas Do It Smarter," he was sex on a stick. Add to that the subtle scent of chocolate, and she was facing a sexy Fudgsicle.'
Even Vampires Get the Blues had the intriguing match up of a charmingly geektastic vangel with a strong & sassy female Navy SEAL. As explosive as that combination sounded in my head, it was even better on paper!
"Essentially, this is a battle of good against evil. Defeat isn't in the vangel vocabulary. Not in the Viking vocabulary, either."
"And you're one of the good guys?"
"I try to be." He smiled and kissed the top of her head. "But goodness does not come naturally to us Vikings…"
Sandra Hill's Deadly Angels series is one of the most unique 'worlds' I have read over the years and I love every single Vangel we have had the pleasure of meeting. And even though I think Mordr is still my favorite overall, Harek is a very, very close second. There was just something so likable about the extraordinarily intelligent tech wiz who was also a Viking vampire angel. He was honest to a fault and had come a long way in repenting his sin of greed over the past eleven-hundred years. I loved that the humor that's always apparent in Ms. Hill's stories was a combination of tech jokes and bawdy Norse flirtations, thanks to Harek's nerdy-but-cool personality. So much fun.
I liked Camille as the heroine, with her strong beliefs against exploiting women and children, as well as her mental and physical aptitude to become a member of WEALS. She really kept Harek on his toes and didn't let him boss her around–much to his chagrin, what with being a Viking and all. 😉 My only small issue with Camille was her inability to listen to Harek explain about his past transgressions before becoming a vangel. It worked out of course, but I'd like to have seen her as a bit more open minded. Once things were settled, there was a nice level of heat and passion between them. Not crazy-hot like in some previous installments, but Camille and Harek had a sweet, playful side that came out in their romance that was a joy to read.
Fans of quirky paranormal romance with action and suspense thrown in will be sure to enjoy Harek and Camille's crazy journey to find love…and take out some bad guys along the way.
Book Info:

Published August 25th 2015 | by Avon | Deadly Angels #6
New York Times bestselling author Sandra Hill delivers a sizzling new entry in her Deadly Angels series, as a Viking vangel's otherworldly mission teams him with a Navy SEAL who's more than his match— she's his predestined mate . . .
The fact that vampire angel Harek Sigurdsson was a Norseman in his mortal life doesn't make thawing out after exile in Siberia any easier. But things heat up when his search for evil Lucipires connects him with Camille Dumaine, a human who thrums with sensual energy that can mean only one thing: she's the mate Harek's been seeking for centuries . . .
The SEALs call her "Camo" for her ability to blend into a crowd—yet Harek's intense blue gaze singles Camille out like a white-hot spotlight. The security wiz was hired to help bring down a ruthless band of international kidnappers, but Camille senses an unspoken agenda—besides Harek's bold declaration that she's his "destiny." Just Camille's luck that the sexiest man she's ever met may also be . . . a vampire!