Every Little Kiss (Harvest Cove #2) by Kendra Leigh Castle: Emma is a Type A control freak who runs her own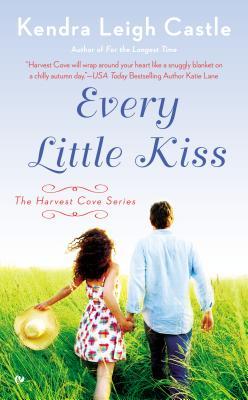 event planning business. She's determined to live a quiet life so that she doesn't give the small town of Harvest Cove a reason to gossip any more about the Henry family.
Emma is a workaholic and a loner; she doesn't really have many friends. Seth is newer to Harvest Cove and he's looking to start over. He's struggled transitioning back to civilian life after six years in the military and fighting in the war. He wants to build a life here and he's not looking for any complications.
Seth has noticed Emma and he's intrigued by the icy, standoffish planner. They end up having a very memorable first meeting while Seth is called to break up a bachelorette party. Sam is intrigued when he sees this other side of Emma and is attracted to her despite his reservations about entering into a relationship. Emma has no interest in a relationship other than her work.
"Wow," he said. "Was that an actual question about me? I think I might have heard it wrong."

"Funny," Emma said, but she couldn't stop the pleasure she got from having provoked that smile. "Don't answer me, then. Or make something up. I won't know the difference."
After losing her father as a child and a bad breakup years ago, Emma sees Seth as an incredibly sexy, but risky bet since he's a cop. But Emma can't quite escape Seth. In their few encounters, Seth has definitely made an impression and now she can't stop thinking about him or the attraction that simmers between them.
"So you don't want me kissing you again, but it was pretty amazing the other day, is what you're saying," Seth translated, and Emma thought the hint of amusement she heard in his voice was uncalled for.

"I didn't say that."

"That you didn't want me kissing you again?"
Both are hesitant due to their own issues, but they find that the attraction is too strong to resist. Seth seems to understand her and wants to really get to know her. Emma finds herself breaking out of her shell and doing what she does best in helping Seth to deal with his issues.
Every Little Kiss is an entertaining, light, and sexy contemporary romance about finding love in unexpected places. Kendra Leigh Castle created a delightfully entertaining heroine in Emma who is a master of worrying about everything. Ms. Castle also provided an interesting cast of secondary characters. Fans of Jill Shalvis and Kristan Higgins will enjoy Every Little Kiss.
Book Info:

Published March 3rd 2015 by Signet | (Harvest Cove #2)
The second novel featuring small New England town of Harvest Cove, where the residents know that Emma Henry likes things nice and orderly—but everyone has to let loose sometimes…
Event planner Emma Henry is used to focusing all her attention on reaching her goals and letting romance fall by the wayside. But when her sister Sam's bachelorette party prompts the most tightly-wound Henry to let her hair down, Emma's night ends with the entire town linking her to a man who could lay waste to anyone's best-laid plans.
Army vet Seth Andersen thought that joining the police department in sleepy Harvest Cove would offer a quiet, normal life. But when he finds himself responsible for uptight Emma Henry at the end of her wildest night ever, his world turns unexpectedly complicated—and he's surprised to discover he doesn't mind at all…