In Everything For Her by Alexa Riley, Oz will never forget the first time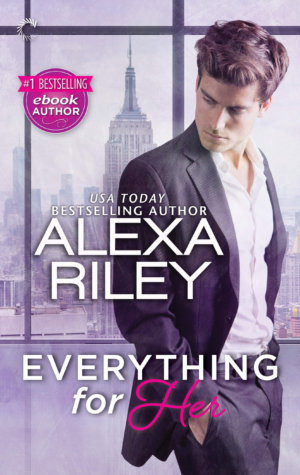 he saw his Mallory. She had no idea at the time, but that day would alter her life in a huge way as he began to set things in motion, bringing their lives ever closer together. Patience is something Oz has learned from dealing with his family and being at the top of the business world. But something tells him he'll have a difficult time keeping his mind focused when it comes to the woman he can't live without.
'…Something about her told me she was the kind of woman who came along once in ten thousand lifetimes.
This wasn't to be rushed. It was to be savored.'
Life hasn't always been easy for Mallory Sullivan, but she's become self-reliant and stronger because of her past. And now her dreams are beginning to come true. After a successful rise to the top of her class at college and now being offered a job that her peers would kill for, she's ready to buckle down in the accounting department at Osbourne Corp and show them what she's made of. Little did Mallory know that she would also find the love of her life. A man who is tender yet possessive and who sweeps her off her feet at every turn.
"He makes me feel so important and special. Like he'd do anything for me. That he can't breathe without me. It's intoxicating to think someone feels that way about me, but it's overwhelming, too."
Oz and Mallory's whirlwind romance takes everyone, including them, by surprise with its intensity. She knows they still have a lot to learn about one another, but is confident that as their relationship progresses it will all work itself out. But as small things begin to add up–or not add up, as the case may be–Mallory begins to question Oz's intentions. When the full truth comes out, with everything he's done and what he plans to do to keep their lives entwined, will they be able to get past the secrets and manipulation? Or will it be too much to overcome?
"All I've ever wanted from the moment I laid eyes on you was to give you everything."
Everything for Her was the ultimate tale of love and obsession, with one man willing to move heaven and earth for the woman he adored. Throw in some dirty, sensual love scenes and a ton of secrets, and you have a book that is unputdownable.
"Mallory, I've loved you from the very second I saw you. The very second. There was no hesitation from my heart that day, and I knew I had to make you mine. I may have gone about it differently than some men would have, but I wouldn't change anything since it led me to you."
If this romance is anything to indicate what writing duo Alexa Riley will be bringing us in the future, count me in! Everything for Her was their first full-length novel and boy was it something to remember. The insta-love factor that they're known for was in full swing and of course there was a dirty-talking, gorgeous, intense guy chasing after a capable, smart and truly lovely young woman. That's a given, right? Oh, but that was only the beginning for Mallory and Oz. From there, the story was taken in several twisting and turning directions until we finally saw exactly what Oz was capable of doing to keep his sweet Mallory happy, safe, and in his arms.
I'll admit that I'm not always a fan of love at first sight, but the way this was written, with Oz being so captivated by Mallory and utterly devoted to keeping her protected…yeah, that got to me big time. And even though he became rather obsessed with putting plans into place to bring her safely into his life, I liked that it wasn't a dangerous, crazy obsession. Oz had his reasons for waiting to truly meet Mallory for the first time and those details came out over the course of the story, doled out bit by bit, building a picture of what he and his family had endured in the past and why he had to be careful in order to have a future with her. So don't give up on Oz and think he's just a typical possessive businessman out for what is best only for him–which seems to be common in romance these days. He was anything but typical.
Mallory was not your cookie cutter heroine, either. She was highly intelligent, with her career focused on accounting, which was something I haven't seen often in this genre. And I loved that Mallory was strong and fiercely protective of those she cared for (a trait she shared with Oz) especially her roommate Paige. They were as close as sisters and that bond was ultimately a source of strength for them both as Mallory found out the truth behind the last five years of her life. It wasn't all intense and dramatic, though. Nope. There were some silly, fun scenes between her, Paige and even Oz, my favorites being the emails and texts between them all. And even though some of the things Mallory and Oz did were a bit over-the-top, I thought it fit their personalities and was dreamy and absolutely charming.
An erotic, modern love story which perfectly balanced sweet and tender moments with deliciously fun naughtiness, Everything for Her will keep readers entranced from page one. Duo Alexa Riley takes insta-love to new exciting heights without skimping on emotional depth or the HEA our characters deserved.
Book Info:

Publication: December 27th 2016 | Carina Press |
USA TODAY bestselling author Alexa Riley's first full-length novel shows just what happens when a strong, possessive man finds the woman of his dreams.
I'll never forget the way she looked, so confident and sure of herself. I watched her from a distance. She wasn't ready for me yet. I didn't approach her and I didn't disturb her, but I never once took my eyes off her.
Mallory Sullivan is ready to start her new life. After graduating at the top of her class, she's landed one of the most coveted internships in the United States. Hard work and determination have gotten her to this moment of living the life she only dreamed of while growing up in foster care.
From the start, I knew that she would be my greatest achievement, so the day I let her go, I set down a path for her. A path to me.
She never expected Oz to be the greatest culmination of those dreams. But sometimes fate determines who you fall in love with. Who makes you lose control. Who owns your soul.
And then you realize it wasn't fate at all…
I've wanted to care for and protect her since the first moment I saw her. I've constructed everything in our lives so that at the perfect moment, I could have her, could give her the life she deserves.
The time has come.