In Everywhere and Every Way (Billionaire Builders #1) by Jennifer Probst,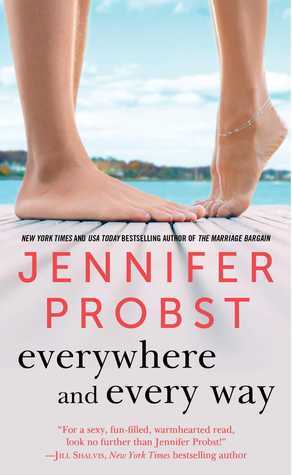 Contractor Caleb Pierce has been running the family business since his brothers left town to pursue their own careers after a family crisis shattered their world. Now the death of their father brings another unexpected change: his will stipulates that Caleb, Tristan and Dalton have to run the business together. They already don't see eye to eye, so when designer Morgan Raines brings her attitude into the brother's first project together, Caleb can see them failing quickly. With his attraction to Morgan continuing to grow exponentially, he'll have to balance work and pleasure so they can succeed in every way.
She lifted a brow. "I don't intermingle with my business partners. Ever. It's bad for me, you, and business."
"Intermingle, huh? I like that word. Very proper. Problem is, I'm not thinking very proper thoughts when I look at you. I keep thinking about messing you up. Getting dirty. Making you scream. Stuff like that."
Morgan is sure in her ability to make her superstar clients happy with their new homes that she designs based on their very specific tastes. Working with Caleb is proving to be anything but easy, though, as their chemistry causes them to fight like cats and dogs on the job site. After a previous relationship left her devastated emotionally, Morgan doesn't know if she can go through that misery again. But Caleb turns out to be everything she's looking for in a man. Is it worth the risk to her heart–and her business–to try for love again?
'She'd wanted to give him anything and everything, everywhere and every way. When was the last time she'd ever felt so needed? Like she was the only thing in the world that would slake his hunger? That type of power was addictive. And it had only been a kiss.'
The new Billionaire Builders series by Jennifer Probst is setting up to be full of steamy romances and complicated family obligations. With a nod to the popular reality show Property Brothers, Caleb, Tristan and Dalton Pierce are proving themselves to be the best new sexy builders on the block.
"I promised I wouldn't touch you."
She stilled under his hands. Tension cranked in the air. He waited a beat.
"I lied."
With one firm pull, he slanted her head back and crushed his lips to hers.
Jennifer Probst is one of my go-to authors for Contemporary Romance. Not only are her storylines always solid and entertaining, she writes alpha guys you want to date and strong women you want to befriend. That was quite true with Everywhere and Every Way. The Pierce brothers were all three pretty dreamy, but it was their tragic backstory that was truly compelling. Couple that with Morgan's own heartbreaking yet inspiring history and we got a strong base for a novel full of emotions and personal growth–in addition to the yummy romance.
There was so much to like about Caleb: his self-deprecating humor, his work ethic and loyalty to his crew, his dirty mouth, and his honesty with Morgan. He might have been a bit controlling when it came to the family business but I could see where he was coming from, wanting to do the right thing and look out for his younger brothers. What I liked most was that Caleb owned up to his mistakes. I thought he had just the right balance of being self-assured and yet showing a humbleness that came from some tough life experiences. And I have to mention that his dogs, 200 pound mastiffs Gandalf and Balin, were terrific comic relief! Animal lovers will fall for those two goofballs, for sure.
I started off not knowing if I would like Morgan after she pulled a sneaky business move on Caleb at the beginning of the book. But I soon warmed up to her and came to really like her sophisticated Southern prim and proper attitude. She was a fierce businesswoman and I had to admire her tenacity. A brilliant designer, Morgan excelled at her career but didn't have as much confidence when it came to personal relationships. I loved that Caleb brought her out of her shell and helped her become confident about her body and her sultry appeal.
Sparks immediately flew between Caleb and Morgan, both on the job site and later in the bedroom, making this romance a joy to sit back and savor. I have a feeling the fun is just beginning for us readers when it comes to this series. I can't wait to see what's next!
Book Info:

Publication: May 31st 2016 | Gallery Books | Billionaire Builders #1
Hot on the heels of her beloved Marriage to a Billionaire novels, New York Times bestselling author Jennifer Probst nails it with the first in an all-new sexy romance series featuring red-hot contractor siblings who give the Property Brothers a run for their money!
Ever the responsible eldest brother, Caleb Pierce started working for his father's luxury contracting business at a young age, dreaming of one day sitting in the boss's chair. But his father's will throws a wrench in his plans by stipulating that Caleb share control of the family business with his two estranged brothers.
Things only get more complicated when demanding high-end home designer Morgan hires Caleb to build her a customized dream house that matches her specifications to a T—or she'll use her powerful connections to poison the Pierce brothers' reputation. Not one to ignore a challenge, Caleb vows to get the job done—if only he can stop getting distracted by his new client's perfect…amenities.
But there's more to icy Morgan than meets the eye. And Caleb's not the only one who knows how to use a stud-finder. In fact, Morgan is pretty sure she's found hers—and he looks quite enticing in a hard hat. As sparks fly between Morgan and Caleb despite his best intentions not to mix business and pleasure, will she finally warm up and help him lay the foundation for everlasting love?