Expecting a Bolton Baby by Sarah M. Anderson: Bobby Bolton was finally in a position to show his brothers that he wasn't a screw up. Having smooth talked his way into reality TV show featuring his family's bike shop and getting them to help back the resort he planned to build, Bobby was well on his way to the respectability he craved.
"Nobody was going to mess up this deal. For the first time in his life, Bobby would have something that was his and his alone. His own personal kingdom. He'd have complete control."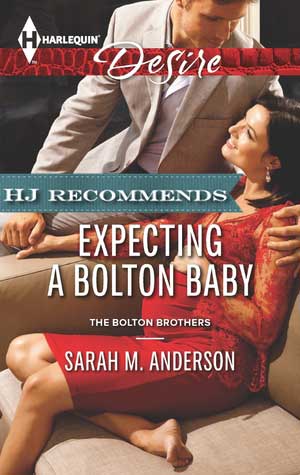 So what if he couldn't get one unforgettable night with his over-conservative backer's daughter out of his head? She had made it clear she didn't want him beyond that one night stand. Needless to say Bobby's surprise when Stella shows up two months after their night together with a startling announcement.
"Why had she let something as ridiculous as desire ruin everything? She should pull away, break this connection between them. She should have pulled away two months ago, too."
Stella Caine had big plans for her life. Tired of begging for affection from her less than loving father, she was going to take the fashion world by storm–if she could ever get the seed money for her business. Until then, her strict father paid most of her bills, money and support she knew he would withdraw once he learned that his own daughter was pregnant and unwed. When Bobby offered to marry her, thoughts of a happy family danced in her head, until he made it clear that it would be a matter of duty. Instead of a loveless marriage, Stella would settle for what she came for–legally binding assurances that Bobby would be there for their child, unlike her father.
Bobby has always been able to smooth talk anyone into buying whatever he's selling. But can he win the biggest negotiation of his life–getting Stella to see how much he wants to be a family with her and their child, how much he loves her?
I loved Expecting a Bolton Baby. Stella's soft but edgy character was perfectly balanced by Bobby's charm. It was a nice switch up that Bobby was supposed to be the one with good communication skills while Stella floundered trying to tell Bobby what she wanted. The conflicts and complications were strong, and the stakes were high, especially for Bobby. I loved that Ms. Anderson didn't make either choice an easy decision for Bobby: let Stella go or lose everything he's worked so hard for. The solutions were believable, and the happily ever after payoff was well worth the ride. Even though we don't know how some of the decisions Bobby has to make are going to play out, it doesn't matter because we know that Bobby and Stella, and all the other Boltons, will face the consequences together.
There was only one thing that I really didn't like. I didn't like the characterization of David Caine. I didn't understand his motivations for how he treated Stella (and everyone else), and I didn't understand his about face. I know some things end up on the editing room floor, but I would have liked a line or two that explain the why's and wherefores of this polarizing character that causes most of the complications.
I would recommend Expecting a Bolton Baby by Sarah M. Anderson to anyone looking for a sexy read with a silver tongued playboy who isn't as easily categorized as he seems, a soft but edgy heroine with a LOT of British stiff upper lip, an unexpected baby, high stakes, and a few angry but mostly loveable brothers and others…and a "leprechaun."
Book Info:

Published November 5th 2013 by Harlequin Desire (Book 2267) | The Bolton Brothers 
In this Bolton Brothers book, first comes the baby and maybe then comes marriage?
He'd never expected to see Stella Caine again. After one wild night, she'd walked away right after revealing that her father was the one man who could threaten the biggest business deal of Bobby Bolton's career. So Bobby left her alone.
Until now.
Now Stella is pregnant and staying in his condo. This is a complication that can be solved only one way: marriage. Bobby wants to do the right thing. Hell, he wants her–he has never stopped wanting her. Surely he can convince her to say yes, even without those three little words.(less)