Kilty Pleasure (The McLaughlins #2) by Shelli Stevens is a hot, well-written romance. This is the story of unrequited love that is finally redeemed. The McLaughin's are an extremely close knit and forgiving family, and will do everything and anything to ensure each others' safety and happiness. Ms. Stevens does an excellent job of introducing and describing both the primary and secondary characters. So much so, that from time to time as I was reading, my mind would pick up on a trait of a supporting character, which would cause me to imagine a future storyline with that character in mind. This book can be read as a standalone, without skipping a beat, although it is the second book in the series. However, I enjoyed it so much that I will definitely read book one.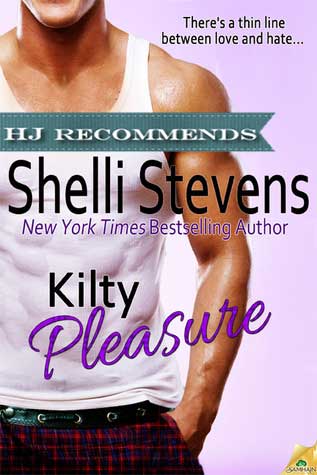 Whidbey Island is the home of Scottish siblings, Colin, Ian and Kenzie McLaughlin. The McLaughlin's own the most happening pub on the island, which also attracts customers from the mainland. In addition to working in the pub, Colin is a local police officer, Ian owns his own auto repair shop and Kenzie is studying to be a paralegal.
Nurse Hailey Alexander went to high school with the McLaughlin clan. At one time, she was best friends with Kenzie, and Ian's fiance Sarah. In addition, she and Colin secretly had a crush on one another. Hailey's childhood was less than idyllic, constantly dealing with her alcoholic, drug addict of a mother and her mother's sleazy, wasted boyfriends, all the while taking care of her younger brother. Hailey did a lot of unorthodox things during her teenage years in order to keep food on the table and child services at bay. It has taken Hailey years to come to terms with her past, and with the exception of her crazy ex-boyfriend, she is almost comfortable with her life. However, to this day, Colin has not forgiven her for causing Ian the loss of the love of his life for almost a decade.
Hailey and Colin's underlying heat is ready to burst. When they finally give into their needs, mind-blowing sex naturally follows. When all their repressed lust and energy is finally set free, I was left slightly overheated. I liked how Hailey and Colin's relationship evolved, in addition to the rekindling friendship of Hailey, Kenzie and Sarah. Luckily, Hailey's past does not destroy her future and those she now calls family.
Overall, this is a solid read with an ending that most romance lovers will enjoy.
Book Info:

Publication: January 28th 2014 by Samhain Publishing, Ltd. | The McLaughlins
The line between lust and hate is often blurred…
The McLaughlins, Book 2
After being ditched at the altar over a year ago, Deputy Colin McLaughlin is fine with being single. Despite the fact that nearly every eligible female on the island wants him, he isn't looking for love.
But something stirs his blood when Hailey starts showing up more on the island. And it's not just the conviction that the apple doesn't fall far from her trouble making, drugged-out family tree. His frustration mounts that even after she ruined his twin brother's life, the desire he's felt for her since high school still simmers.
Hailey Alexander knows her past is littered with mistakes. She's done her best to make amends and move on, but a certain Scottish-born deputy doesn't seem in any hurry to forgive or forget.
More than just fighting the attraction that's compromising their hearts, they face a new threat from Hailey's past that may threaten her life.
Warning: Contains sexy Scottish men living in America. The occasional kilt. A hero deputy who can't forgive or forget, and a nurse immune to bullshit. Angry kisses. Scalding sex. And a drugged-out stalker ex to keep these two on their toes.