Exploited by A. Meredith Walters: Hannah leads a double life. By day, she works in network security for a boss who doesn't know her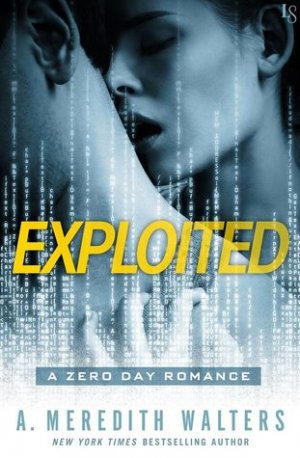 name or appreciate just how skilled she is. By night, she operates as a hacktivist. She plans out careful and skilled attacks on companies who have exploited others for their own gain. She's built quite a reputation and she's very confident in her own skills and ability to stay untraceable.
Mason is a skilled and rising star within the FBI. He's diligent and persistent in working his cases with a successful record. As a new transfer to the Richmond field office, he did get off to a rough start with his boss and other agents. With his computer coding background, he investigates computer crimes and takes down hackers.
Hannah knows that she's on the FBI's radar and takes steps to protect herself. It's too bad that she has to get close to the very agent assigned to expose her. Meeting Mason was easy enough, but he's different. It's clear from the beginning that both feel the attraction, but Mason actually wants to get to know her.
"You can tell me if there's something going on. I won't judge you. I will only try and help if I can. I'm amazingly resourceful."
I squeezed his hands, pulling them away from my cheeks, holding them, lacing fingers. "I'm fine, Mason. You don't need to ride to my rescue."
There's something about Hannah that draws him to her. But something also feels off for Mason. Hannah is very private and tends to run hot and cold. For every one step forward, they take another few steps back as Hannah feels torn about their growing intimacy while she uses him.
"That would probably be a good idea, since I have no idea where we're going. You want to let me in on the secret?" I got into the passenger side of her very tiny car. I felt as though my knees were in my chest.
"You'll just have to trust me," she teased, starting the motor and pulling out of her driveway.
Trust.
There was that word again.
Exploited is just the beginning of a high stakes game filled with suspense. A. Meredith Walters created flawed characters that had a lot in common even as they play for opposite sides. Ms. Walters provides a cast of characters that you'll find doubting who they really are and what role they play. Exploited is only the beginning for Hannah and Mason as it does end in a cliffhanger. Fans of M. Leighton and Sierra Kincaide will enjoy Exploited.
Book Info:

Publication: July 25th 2017 | Loveswept | Zero Day #1
In this pulse-pounding novel from the bestselling author of Butterfly Dreams, a vigilante hacker plays a seductive game with the agent who's chasing her online—and sharing her bed in real life.
At first glance, I'm nothing out of the ordinary. I am a daughter. A sister. A friend. When you look at me you won't see anything that warrants suspicion. I don't look like a criminal.
My name is Hannah Whalen, but most people know me as freed0mov3rdr1v3, or "Freedom Overdrive"—one of the world's most prolific and notorious hacktivists. My goal—my purpose—is to shed light on the evil that lurks behind the corporate and government lies we have been force-fed for too long.
My story begins with the best possible intention. Devoting my life to exposing the corrupt. The dishonest. The unethical. For that, they label me a cyber-terrorist. Wanted by the FBI, I've always been one step ahead.
Until I fell in love.
Because I'm sleeping with the man who's hunting me. And he has no idea that I am his prey. Now I have to decide what's more important: my freedom or my heart.