The Dad Next Door by Stephanie Dees: This was my first time reading a novel by Stephanie Dees, and I hope to see more books from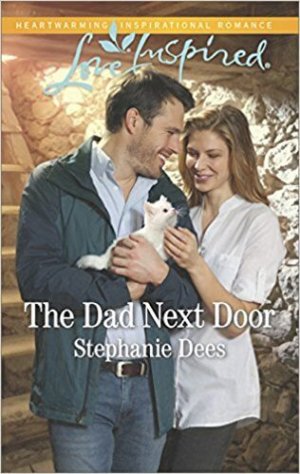 Sher. Ms. Dees weaves an uplifting story about the supportive power of community in The Dad Next Door. She also does a masterful job in writing about the importance of first impressions not always being correct.
Claire is new to a small town in Alabama, and her goal is to convert a run down plantation home into a loving supportive home for foster children; this cause is extremely close to her heart, as she and her sister once lived in foster homes before being adopted by a loving mother. Claire quickly runs into resistance from the local temporary police chief, and must prove to the town that the foster home she plans to open will be an asset to the community and that the children will not be juvenile delinquents, but rather, children and teens in need of love and acceptance. Local police officer and hometown guy Joe Sheehan is quickly supportive of her efforts, and Claire is quickly drawn to his daughter Amelia, with whom Joe is trying to forge a connection. Joe only recently learned of Amelia's existence and is having a difficult time persuading Amelia to trust him. Thankfully, Joe's adoptive Mom, "Bertie", quickly encourages many people in the community to rally behind Claire, and Bertie herself welcomes Claire into the bosom of the family. Slowly the community members start to appreciate Claire and her intentions to provide a home for troubled and needy children.
This story is an extremely touching one, as it ultimately shows the beauty of community helping each other in times of difficulty, as well as celebrating together in times of happiness. I highly recommend The Dad Next Door to any reader who enjoys a good romance.

Book Info:

Publication: April 18, 2017 | Love Inspired |
Lawman Joe Sheehan is desperate to bond with the daughter he's just discovered he has. But as a virtual stranger to twelve-year-old Amelia, the task seems impossible. Until Claire Conley moves to town. A social worker renovating a mansion into a foster home, Claire is the first person to get through to Amelia. Falling for the single dad was not on Claire's to-do list. But with Joe and Amelia around, the house finally starts to feel like home. Claire's ready to fight to convince Joe that together they've done more than fix a house…they've built a family.