Falling for Her Fake Fiancé by Sarah M. Anderson: Messy, complicated and real, that's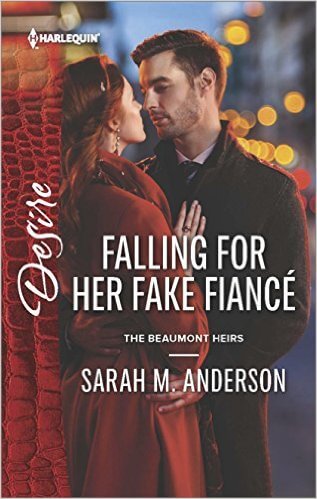 what true love is.
Frances Beaumont had watched her life crash and burn several times over at this point. Everything, business wise, that she tried failed. This included her latest venture that had her returning home without a dime and in fact having had to sell most of her wardrobe. Since her family had recently lost control of their company it didn't even seem like her name had a lot of play anymore. So Frances was pretty lost and not sure what to do about that.
Ethan Logan helped. He bought failing companies and he helped them turn things around so that they were thriving once more. This one might be a little more complicated than the others though. It seemed there was a lot of loyalty and it wasn't directed at him. He didn't have a lot of time left and he didn't want to fail. Desperate times call for desperate measures.
When "well meaning" employees take matters into their own hands and Frances and Ethan meet, there is something in the air. What starts as one thing may not end up as easy and uncomplicated as planned though. After all love is always messy and complicated, right?
Wow. Ms. Anderson has definitely shown her readers complicated and wonderful love in this installment of the Beaumont Heirs. Though it is part of a series it can stand on its own as well. The book moves quickly and smoothly into the Denver scene. Ms. Anderson's focus is certainly on her characters is this novel though. While Frances comes with fairly obvious baggage the way the author handles Ethan's character is truly amazing. His development is something you don't often see in quick reads.
Falling for Her Fake Fiancé by Sarah M. Anderson is certainly a book that shows how crazy complicated people can somehow manage to figure it all out in the end even when nothing else makes sense.
Book Info:

Publication: Published October 6th 2015 | Harlequin Desire | The Beaumont Heirs #5
All it takes to seal the deal is one little temporary engagement…
Ethan Logan never fails. But taking over the multimillion-dollar Beaumont Brewery is proving impossible. To succeed will mean taking drastic measures. It means proposing to a red-haired Beaumont bombshell. It's the perfect plan—until Ethan realizes he wants her for more than just business…
Frances Beaumont won't marry a total stranger and get nothing in return. But once Ethan agrees to the socialite's terms, she expects their charade to go off without a hitch. Frances doesn't believe in love and has never met a man she couldn't handle. And then one kiss from her fake fiancé changes everything…