In Falling for Owen (The McBrides #2) by Jennifer Ryan, Reformed bad boy Owen McBride is now fighting on the right side of the law, having become a lawyer with his practice located in his hometown of Fallbrook. Owen had spent time helping take care of his best friend Rain and her daughters until his brother Brody came back to town. They had a troubled childhood, with an alcoholic father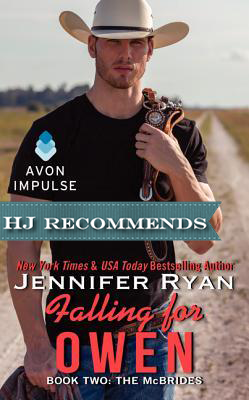 who left them to run wild. So both Owen and Brody have spent their lives longing for a family and a sense of stability.
"Stay," he coaxed, kissing the top of her head.
"I don't want to be anywhere but right here with you."
He smiled into the night. For the first time ever, he'd asked a woman to spend the night and began thinking about ways to get her to stay longer. Maybe even forever.
Owen has noticed his beautiful neighbor and coffee shop owner Claire before but hasn't had a chance to talk to her. That changes when Dale, the ex of his client Shannon who is an apparent victim of domestic abuse, breaks into Claire's home and terrorizes her. Feeling guilty that his client's issue caused harm to Claire, Owen begins to watch out over her but ends up falling for her in the process. He's never felt so strongly about a woman before yet somehow it doesn't send him running. With himself and Claire still being threatened, Owen continues to fear for her safety and looks forward to the day when he can make her his forever.
"I don't think I've ever seen a man look as good as you in everything he wears."
The glint in his eyes turned sultry and narrowed on her flushed face. "If you think I look good dressed, wait until I take it all off."
Claire's safety is shattered when her home is invaded by a drunk man looking for her neighbor Owen. Bruised and feeling scared, she allows Owen to help with the clean up process and add some safety measures to her house. Claire isn't very trusting of men after what she went through with her cheating ex-husband, but Owen seems different. He stands by his promises and is straight forward. The fact that he's gorgeous as all get-out doesn't hurt either. Their new found friendship quickly turns into something more, even though she's not sure she's ready for anything serious yet. The threats against herself and her home continue to happen. Just when Claire thinks she might finally be able to move forward with Owen, she ends up fighting for her life and future happiness.
'I'm in so much trouble.' If she lost her heart to this man, she didn't know if she'd survive if things didn't work out, because with Owen it mattered more than it ever had with anyone else.
The McBrides series just keeps getting better and better! I thoroughly enjoyed book one, The Return of Brody McBride, but I liked Falling for Owen even more. I mean…a former bad boy who's now an attorney fighting for justice, who cherishes his family, yet still has a dirty mouth when around a certain coffee shop owner? Count me in.
I really love Jennifer Ryan's writing style. It's clear and concise but still emotionally deep. There's always just enough of an element of suspense to keep me on my toes and make me read way past my bedtime to find out how the story ends. 😉 But it's the romance that keeps me coming back. Ms. Ryan creates a powerful connection between her protagonists that grows in intensity as the story moves along. I expected it with Brody and Rain's relationship in book one given their long history. But Owen and Claire surprised me with how perfectly they worked together. Their personalities balanced out quite well and I enjoyed the playfulness they had, especially in light of the serious, scary moments they endured.
Falling For Owen had an interesting plot. I can't give a lot of details–I don't want to ruin the twists and turns here–but suffice it to say that love and obsession played major roles. I thought it was realistic how untrusting Claire was of men after her disastrous marriage which led to her trying to keep Owen at arms length at first. And he knew how much she was struggling with trust issues, so like the stand-up guy he was, Owen took things as slowly as Claire wanted. With all of the problems happening due to Shannon and Dale's situation, Owen and Claire were put through hell. Talk about testing their fledgling relationship right away…
If you're looking for a contemporary romance with strong emotions and a hint of suspense, definitely try Falling for Owen.
Book Info:

Published April 15th 2014 by Avon Impulse
The McBrides of Fallbrook return with reformed bad boy Owen. He'll do whatever he must to protect the woman who's captured his heart.
Attorney by day, rancher by night Owen McBride conquered his dark past and made it his mission to help the innocent-even at the expense of a personal life. But when a client's abusive ex-husband targets Owen and his gorgeous neighbor Claire gets caught in the crossfire, his feelings turn anything but professional. The mysterious beauty awakens something in him, and he'll move heaven and earth to keep her safe.
Coffee shop owner Claire Walsh learned the hard way that handsome men aren't to be trusted. Owen may be sexy as hell and determined to take care of her, but she's reluctant to put her heart on the line. His presence in her life puts a target on her back, yet the more time she spends with him, the more she finds she can't help falling for Owen.