Falling for the Cowboy by Kennedy Fox is filled with undeniable chemistry, witty banter, and southern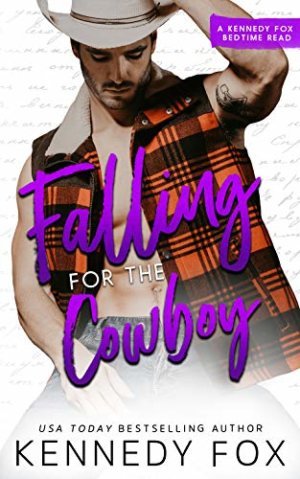 heat! For those readers who enjoy their hero to be a bona fide cowboy, go ahead and saddle up and one-click this book immediately.
Presley is a professional photographer who is on the way to San Antonio to take cowboy themed photos. Texas is drastically different than her home, back in California, but the scenery is very nice at the Bishop Ranch. Presley is familiar with cowboy romances and refuses to let any cowboys sweet talk her into anything. What she didn't count on was Colton.
For Colton, women are off-limits. His last relationship ended in pure betrayal and he has no interest in going down that road again. Meeting Presley is just the wakeup call Colton needs to feel again. Presley is different than other women. He notices that immediately. The chemistry between them is explosive and worth exploring. He just has to convince Presley of that.
"If you wanted to save a horse and ride a cowboy, all you had to do was say so in the first place."
Colton has loads of southern charm. It literally oozes from him, but Peyton's not buying it and I love her for that. Presley makes him work for it, that's for sure! Colton has been hurt before, but he's willing to start something with Presley. He's all in, as far as he's concerned, but will Presley stick around and see to the possibility of a future together?
I loved many, many things about Falling for the Cowboy. The charming characters, the enjoyable banter, and the swoon-worthy romance is well-worth the read. I also loved how Presley is a bookstagrammar. How fun is that! Highly recommended!

Book Info:

Publication: January 31st, 2019 | Kennedy Fox Books, LLC | Bedtime Reads #3
Never trust a man who wears nothing more than a cowboy hat and ripped jeans who asks if you'd like to save a horse and ride a… well, you get the picture.
That should've been enough for me to walk away.
I've been warned on several occasions about southern men — with their sexy accents, charming manners, and the ability to easily get any woman in bed — which is something I'll be avoiding.
Being a professional photographer has many perks — traveling around the world, calling all the shots, and working with subject matter that isn't bad to look at — but Colton Langston with his washboard abs and baby blue eyes, could care less about my current project. He's trouble, I know it, and he's determined to make me work for every single photo. When I'm forced into riding lessons, I get way more than I ever bargained for, and by the time my trip is over, I'm in too deep.
Being with him was thrilling, but falling for him was unpredictable.
And ignoring him will be impossible.