In Falling for the Marine (McCade Brothers #2) by Samanthe Beck, Major Michael McCade is biding his time until he can return to flying helicopters for the Marines after a slow recovery from a back injury. Now his doctor wants him to try massage therapy of all things. Michael is reluctant until he sets his eyes on Chloe Kincaid. Massage therapy turns out to work wonders when performed by the beautiful woman who has a healing touch.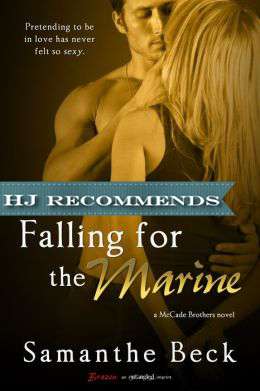 But when Michael decides to come to Chloe's rescue after a situation gets out of hand, he may just end up falling for the free spirited woman.
'Everything about her appealed to him. If he'd ordered his own personal playmate, he couldn't have come up with a better design than what nature had so helpfully packaged into one Chloe Kincaid.'
Chloe Kincaid grew up hating what the Army did to her parent's relationship and vowed to never get involved with a military man. Although, it seems like she just has bad luck with her choice in men after the disaster that was her marriage to Drew. Now traveling place to place as a massage therapist, Chloe has learned to rely on herself and is happy on her own. Until she meets Michael, that is. How can she actually feel drawn to an alpha male like Michael? And why can't she stop herself from thinking how nice it might be to stay in one place for a while?
"You've healed me and tormented me at the same time, Chole."
Sweet Jesus, the things this man did to her with nothing but words.
Falling for the Marine is a sexy contemporary romance with flawed but easy-to-love characters. Book two of the McCade Brothers series can definitely be read as a standalone, but the story is so sizzling hot, I think you'll want to read about the other McCade men as well!
The story reads at a comfortable pace and was hard to put down! I found I really enjoyed the secondary characters and thought they played a pivotal role in the storyline, especially Michael's CO Harding and Chloe's friend Lynne. There was a lot of wisdom given out by those two that came from their own experiences. It seemed like a very realistic thing for them to offer advice to help out a friend in need.
"Okay, he's a bad-ass Boy Scout who knows his way around a pair of handcuffs, but still fundamentally trustworthy."
Michael and Chloe were so interesting together. They had an instant attraction but both knew they were looking for different things out of a relationship. I thought their personalities were a good balance: Michael is a Marine through and through; he's tired of dating and wants a long-term relationship. Whereas Chloe is fun and wants to live free without commitments to avoid getting hurt again. Their romance was passionate and intense with a major heat factor, but still had room for teasing and playful moments as well.
Falling for the Marine is definitely a recommended read. Whether you like sweeping romantic endings, or you enjoy steamy love scenes, this book has it all.
Book Info:

HJ Recommends
Publication: October 28th 2013 by Entangled: Brazen | Series: McCade Brothers
USMC helicopter pilot Michael McCade has two goals: Get his damn back into alignment and keep his nose clean until his commanding officer clears him to fly again. The doctor-recommended massage therapy seems like a necessary step toward returning to the cockpit, but when his too-hot-to-handle neighbor, Chloe Kincaid, turns out to be his masseuse, he strays from the straight and narrow in a major way.
Chloe Kincaid is looking for a simple, no strings attached, ego-boosting hook up. But when her positively panty-melting neighbor, USMC Major Michael McCade, (aka Major Hottie), shows up on her massage table, she lets desire get the better of professionalism. Now theyre pretending to be engaged to avoid a whole lot of unanticipated consequences of a momentary lapse in judgment. But can a girl who avoids attachments at all costs fake an engagement to a straight-arrow soldier without falling hard?