A Touch of Temptation (The Sensational Stanton Sisters #2) by Tara Pammi, tells the story of the second Stanton sister Kimberly Stanton in The Sensational Stanton Sisters series.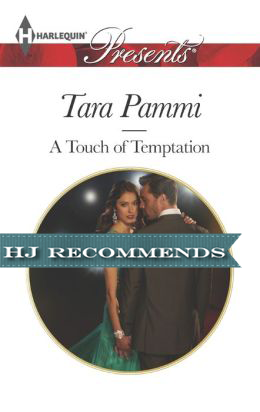 Cool, calm and collected CEO Kimberly Stanton is following her scandalous twin sister Olivia's footsteps by announcing her very sudden pregnancy and announcement of her secret marriage to rebel tycoon Diego Pereira. Just a few days ago she was all geared up to marry Alexander, who is now her sister's husband and now she is pregnant and married to the baby's father against her wishes. The scandal has affected both Kimberly's personal and professional life. With the loss of her credibility in business due to the scandal and her ever growing distance with her twin sister, the only person who can help her is her husband but only if she plays by his rules.
A Touch of Temptation by Tara Pammi was an enjoyable read overall with the inclusion of loads of angst and non stop battles between the protagonists on pretty much everything. It was written well and delivered everything which Harlequin presents promises with a story which carries the standard elements.
She pulled her gaze upward. The whole situation she found herself in was absurdly comical. If only it wasn't her life. "A reward system? Great. Sex for good behavior?"
His mouth curved again, in a smile that dimpled his cheek, pure devilish amusement glittering in it
"See—just the way you like it. Everything reduced to a simple business transaction. Be a good little wife and you can have all the sex you want."
Diego was a self made man who had fought his way from the dirt poor dangerous areas of Rio to achieve unimaginable success. He was tortured from the demons his past and was hell bent in getting Kim back in his life after she walked away from their marriage. I liked that he was caring, protective and emotional at times. Though he irritated me at times with his irrational jealousy sometimes, I managed to love him by the end of the story. Kim was a very different heroine because she was logical, perfectionist, had a lot of emotional baggage and was not free with her emotions. Unlike typical harlequin heroines, she did not have any maternal feelings for her unborn twins and considered them to be an hindrance in her well planned out life but she did warm up to the feelings of motherhood. She was strong, independent and I liked that she matched Diego in every aspect but I would have preferred if she carried less baggage.
"There is very little I have asked of you, or will ever ask of you. But when it comes to our child, I won't settle. I will never be that boy who was denied his right ever again." He shrugged, a casual movement, in complete control of himself. "I wanted for my child to be recognized as mine. You had the perfect chance to do that at your press statement. You didn't. So now we will do it my way."
The story was engaging and the characters had a solid background which explained their present actions. The angst just added to the emotional quotient of the story and although I got a little frustrated with the hide and seek the characters played with their emotions, it was a compelling read. The last two chapters just won me over and at the end I was rooting for the characters and the well deserved HEA they got.
Overall, A Touch of Temptation is a well written good read with unconventional characters and loads of angst. If you liked the first book in the The Sensational Stanton Sisters series, then you will definitely love this even more.
Book Info:

 HJ Recommends
Publication: October 22nd 2013 by Harlequin Presents (Book 3192)| Series: The Sensational Stanton Sisters #2
Back in the headlines…again!
Cool, calm and collected CEO Kimberly Stanton is following hot on the heels of her scandalous sister Olivia. Not only has she revealed her (very sudden!) pregnancy, but she has rocked the international business world with the shock announcement of her marriage to outrageous Brazilian bad-boy-tycoon Diego Pereira!
If rumors of huge blowout arguments, bailout money for Kim's company and dark secrets are already besetting society's most notorious couple, who can say what lies ahead for these two lovers? One thing's for sure—it'll be so much fun watching