Falling for the Right Brother by Kerri Carpenter is a sweet and sexy homecoming romance for a woman who left town in disgrace but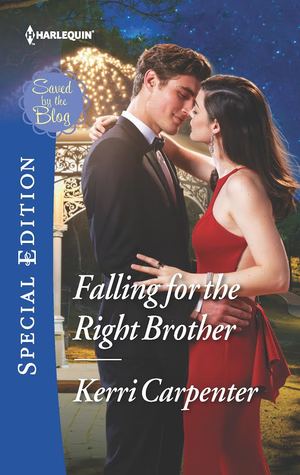 is back now and hoping to put some of those bad memories behind her.
Elle Owens hasn't forgotten the embarrassing video that outed her crush on Jasper Dumont in high school. She'd fled after prom to Italy, taking art studies and working in museum galleries but her father's recent health scare has brought her back to her home town and all the baggage she left behind. She's no longer infatuated with her high school crush (thank goodness), but his brother Cam Dumont who picks her up at the airport has definitely got the handsome construction worker vibe going on.
Cam is happy to see Elle back home and she's definitely changed, although he always liked her as a quiet studious teenager. Still, her old crush on his brother makes him wary. When Elle assures him that she's gotten over it, Cam takes it upon himself to help Elle feel at home again. Old gossip surfaces easily and with a blogger in town who seems to know everything Elle is up too, she feels a bit like she's under a microscope. Can she reconcile the past and the present, and make a new future with Cam too?
This is an easy read and a fun story about coming home and how things change yet stay the same. Elle makes a new friend (an acquaintance from high school) who becomes her confidante and helps her adjust to life in a small town again. There are extenuating circumstances behind the video that surfaced embarrassing Elle that explain things, though it sometimes seems as though the emphasis on past events is going to hound Elle forever. One of her biggest concerns about staying in town is being able to find a job using her artistic abilities and Cam comes up with a unique way to help her with this. He's a really nice, generous man and they share some sensual scenes together. Overall it's an enjoyable read and while the blogger who is spilling all the town's secrets remains anonymous, she or he is sure to turn up again in the next story!

Book Info:

Publication: May 23, 2017 | Harlequin Special Edition | Saved by the Blog #1
Saved by the blog!
This just in, fair readers! Chic and stunning, that gorgeous new woman about town is none other than our very own little Ellie–now Elle–Owens. She's a far cry from the frumpy, bookish student we used to know, but then, living in Italy will do that to a girl! Still, this blogger can't forget the infamous video that caused her to leave!
Apparently Miss Elle has been spotted with yummy contractor Cam Dumont…but we thought her heart belonged to his little brother. Are Cam and Elle a new couple? They were seen cooling their passions in the bay…in April! If this is love, let's hope she's swimming with the right brother. The Bayside Blogger will keep you posted.