Falling for the Sardinian Baron by Rosanna Battigelli: Ella Ross has enjoyed traveling and interviewing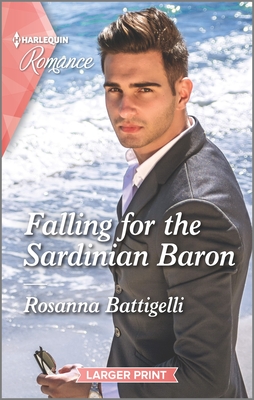 many important people. Her new assignment is to go to Sardinia to get a story for popular magazine about the very wealthy Baron Massimo DiLuca and his mother. The baron has lead a rather isolated life on his private island since the sudden death of his wife.
Ella is surprised how down to earth Massimo is when he comes in person to the airport to pick her up, rather than sending a pre-planned driver. She is truly charmed when she discovers she will be staying in a luxurious guesthouse on the baron's estate.
Ella lives in Canada, but has roots in Sardinia. She hopes to explore them while she is on this assignment. She has changed her name from the original, Marinella Rossi. She sees from the very beginning of the interviews that it will be hard to stay professional with the good looks and charm of Massimo.
Massimo is still having difficulty dealing with the sudden death of his wife, even though it has been a while. He has been a recluse, only interacting for business and with his mother. There is something mesmerizing about Ella. Maybe she can help bring him back to life as she asks him questions and attends his mother's birthday and a special dedication.
Author Rosanna Battigelli paints such vibrant word pictures that I felt I could see the lushness of the island and the color of the sea. The Italian language interspersed throughout the story lent extra authenticity. The various foods described sounded delicious, other than the octopus. It must be an a taste you need to grow up with to truly appreciate.
The characters of Ella and Massimo were both well developed. The secondary characters added a special charm. The love story between the hero and heroine is built at just the right pace and their dialogue is realistic. Massimo is definitely swoon worthy, even with his sadness from the past.
The author took me on an exotic journey that left me engaged from start to finish. I have read other books by this talented writer in the past and look forward to more in the future.
Book Info:

Publication: July 27, 2021 | Harlequin Romance |
A life-changing assignment…
…with a brooding billionaire!
Writer Ella Ross's new assignment—to interview reclusive billionaire Baron Massimo DiLuca!—is a career high and a chance to discover her Sardinian roots. But from the moment she meets the baron, who has shut himself away on his luxurious private island since losing his wife, Ella is drawn to the man behind the mask. She'd hoped to find herself in beautiful Sardinia… What happens if she finds love, too?