The Best Next Thing by Natasha Anders finds British businessman Miles Hollingsworth retreating to his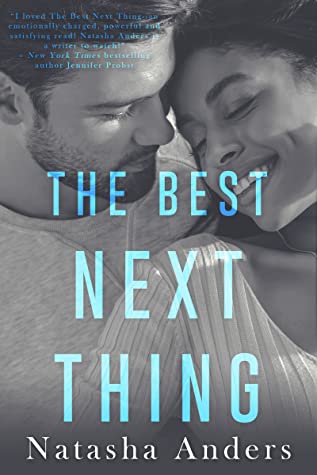 vacation home in South Africa to finish recovering from an illness that almost took his life. Charity Cole has been his housekeeper for three years, but she always made herself scarce when he or his family were around. Now, planning on spending weeks there, he really notices her for the first time.
Charity has been hiding out in Miles' home, acting as a housekeeper and staying away from her family because she didn't want to admit the truth of what her now deceased husband had put her through. She tried, in fact, not to be noticed; other than a couple of other employees that worked for Miles, she refused to form friendships and stayed away from romance. Just as Miles made assumptions about her, thinking she was much older and prim than she actually was, she made assumptions about him. She always thought Miles was cold and aloof, but when he saves a puppy from a storm and refuses to drop it off at a shelter, she begins to question if she really knew him. The more time they spend together, the more they open up to one another. Miles wants to help Charity come clean to her family and follow her dreams, but will she be able to let go of the past so she can move on?
Trigger Warning: View Spoiler »This book deals with domestic violence. If that's a trigger for you, you'll want to stay away from this one. « Hide Spoiler
I struggled with this book a lot. At first it was because Miles was completely unlikeable. He's cold and rude to his employees. He talks about growing up in a home where his mother struggled to make ends meet, so one would think he'd be more sympathetic and compassionate towards the people who work for him. He does get more likeable as the story goes on though.
Another issue, besides my initial dislike of Miles, was Charity. She's not overly likeable at first, either. When everything she went through was revealed I felt for her, but I couldn't understand why she didn't turn to her family and basically hid from them for three years. I also didn't understand why her family let her get away with hiding for so long. They clearly knew something was wrong; they should have done something more to help her instead of letting her isolate herself for so long.
I had a lot trouble with the pacing of this story. It felt like it dragged on and on. I found myself having to repeatedly put it down because it kept losing my interest. The romance is an extremely slow burn; it doesn't pick up until the later part of the book. Even at that point I didn't feel much chemistry between the pair, although I thought they were starting to build a decent friendship.
While the book blurb sounded interesting, and I often enjoy the boss-employee trope, this book just didn't work for me.
Book Info:

Publication: July 20, 2020 | Natasha Anders |
After years of torment and pain, Charity Cole feels safe again. The isolated house within which she lives and works is her haven. But her sanctuary is invaded when her icy, reserved boss shows up unannounced. He sees her as he was never meant to see her and Charity's carefully constructed safe world begins to crumble.
Miles Hollingsworth is a stone cold workaholic. His life revolves around his company and when ill health forces him to take time off he heads to his holiday home where he knows he won't have to deal with anyone but his dour live-in housekeeper, Mrs. Cole. Cut off by violent winter storms and alone in the huge and isolated house, Miles and Charity are forced to spend more time together than they have before.
The attraction between them burns fiercely and uncontrollably but both are reluctant to act on it. Something has to give but both Charity and Miles have too much at stake to be the first one to break.