Farmer Wants a Wife (Love and Friendship #3) by Shelley Munro is a funtastic read, especially if you are a fan of "The Bachelor" on network TV.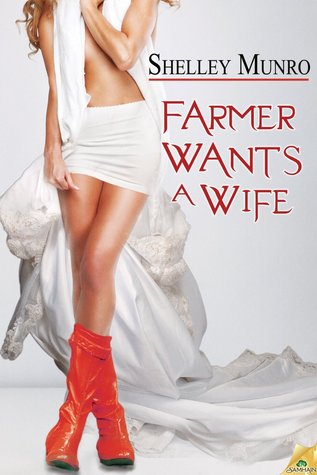 In this story, bachelor and farmer Noah Penrith is looking for a wife. His farm is located in the fictional town of Clare, New Zealand and Auckland just happens to be a plane ride away. Noah did not willing volunteer to be on the program, he got railroaded into it after his weasel of a mother completed all the necessary paperwork.
Burlesque dancer Susan Webb wants to settle down. She is tired of being lonely and being involved with men that end up hurting her. When Susan applied to be a contestant on the show, she was very unhappy with her life and office job. Once she transformed herself into a dancer,(she has natural talent), and surrounded herself with wonderful friends, her loneliness became almost nonexistent. Although living in the farm country does not thrill her in the least, she is willing to explore the possibility.
Susan is a spunky and determined character. I loved the way she handled everything in stride, from the snickering cameraman, to the sometimes cocky Noah and most of all, Noah's piranha of a mother. With the exception of a few bouts of excitement, Susan remained calm and serene as the show took off and she became the contestant everyone gossiped about. She wrote honestly and truthfully in her blog and her fans respected her for it. Susan's ability to not react and provide targeted comments on camera became her greatest asset.
Tyler Penrith, Noah's younger brother, ends up befriending Susan via her blog. After two weeks of emails, they agree to meet, sneakily of course, and it is almost love at first site. Tyler is the man for Susan. Their chemistry is magnetic because Ms. Munro is able to create scorching sex scenes that are tangible. Tyler is a widower, and is raising his young daughter with the assistance of his in-laws. He helps manage their farm, while his love and ability to create art takes a back seat.
The big question is, who does Noah want for his wife? Susan is one of the finalists, but she is in love with his brother. Noah was actually seeing someone before the show and before his mother interfered with his future. If Susan and Tyler are truly in love, can she live a farmer's life? Does Noah finally stand up to his mother? Hmmm, I guess you will have to read the book in order to get the answers. I promise, you won't be disappointed.
Book Info:

Publication: August 26th 2014 by Samhain Publishing |  (Love and Friendship #3)
Think finding the perfect lover is difficult? Ask Susan Webb—she knows it is. Lonely, tired of dull routine and dud men who only think with their lower brains, she takes a calculated risk to shake up her lackluster life.
Now she's set to take part in a reality dating show. Her objective: to find a good, honest man who's up for enjoying lots of sexy fun on the road to love. Failure is not an option.
One look at his older brother's Farmer Wants a Wife candidate, and Tyler Penrith is intrigued. Prim and proper on the surface, she has a secret smile in her eyes and an exotic dancer sway to her step. And calamity follows her around like a tame dragon.
Susan might be in his brother's age group, but Tyler's not about to let Nolan waltz off with the first woman to snare his attention in ages.
As the show's ratings go through the roof, Susan finds herself falling for the wrong man—and her simple plan for happiness on the brink of falling apart.
Warning: Contains sibling rivalry, lots of sneaking around, sexy times in the great outdoors, a bright blue vibrator, and a reality show that's giving everyone something to talk about.