Fight or Flight by Samantha Young: Ava is a talented interior designer. She also loves to dress the part with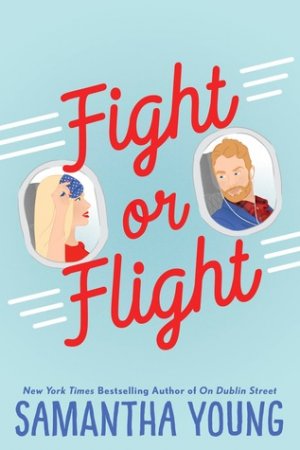 her skirts, silk tops, and heels. She's used to being judged for her beauty and her lack of height, but she's smart and driven. She loves living in Boston and the distance that affords her from her hippie parents and ex-best friends.
Caleb is a sexy Scotsman. He's devoted to his family and loves his finance job at a leading technology company. He has no interest in love or a committed relationship. Caleb is also quite the contradiction as he is brutally honest, generous, kind, rude, charming, thoughtful, and brusque.
After a nightmarish trip back to Arizona for a funeral, Ava just wants to go back to Boston. Instead of getting the first class ticket she wants, she encounters the rudest man she now has the misfortune of meeting. Things go from bad to worse when the flight is redirected with an overnight stay in Chicago. She can't escape Caleb and she's surprised to realize that she might not entirely want to either.
His beautiful gaze bored into me with a thoroughness that made me tense. "Looks like I owe you again."
I shook my head. "We're not going to be around each other long enough for you to pay up."
Hearing the sincerity in my words, Caleb finally nodded. "Your loss."
Despite their terse encounters and bickering in the airport and on the flight, they share a sizzling one night stand. She couldn't be happier when she's finally back at work, but surprised to once again run into Caleb. Engaging in a causal affair is entirely unlike her, but she can't resist their chemistry or how simple it all seems. It begins to get complicated when they actually get to know each other, become friends, and realize they might not dislike each other after all.
"There's a lot tae like, Ava. From what I can see so far, you aren't at all what I expected."
I smiled. "Thank you, I think."
Caleb didn't smile. "I think maybe you like me a little bit too."
If he could be honest, then so could I. "I do."
Fight or Flight is a highly entertaining and sexy enemies to lovers story I didn't want to put down. Samantha Young provided great dialogue and banter along with heat, tension, and a mix of heartwarming and heartbreaking surprises. Ms. Young developed a fabulous cast of characters in their family, friends, and coworkers. Fans of Christina Lauren and Melanie Harlow will love Fight or Flight.
Book Info:

Publication: October 9th 2018 | Berkley |
A series of chance encounters leads to a sizzling new romance from the New York Times bestselling author of the On Dublin Street series.
The universe is conspiring against Ava Breevort. As if flying back to Phoenix to bury a childhood friend wasn't hell enough, a cloud of volcanic ash traveling from overseas delayed her flight back home to Boston. Her last ditch attempt to salvage the trip was thwarted by an arrogant Scotsman, Caleb Scott, who steals a first class seat out from under her. Then over the course of their journey home, their antagonism somehow lands them in bed for the steamiest layover Ava's ever had. And that's all it was–until Caleb shows up on her doorstep.
When pure chance pulls Ava back into Caleb's orbit, he proposes they enjoy their physical connection while he's stranded in Boston. Ava agrees, knowing her heart's in no danger since a) she barely likes Caleb and b) his existence in her life is temporary. Not long thereafter Ava realizes she's made a terrible error because as it turns out Caleb Scott isn't quite so unlikeable after all. When his stay in Boston becomes permanent, Ava must decide whether to fight her feelings for him or give into them. But even if she does decide to risk her heart on Caleb, there is no guarantee her stubborn Scot will want to risk his heart on her….