In Finding Our Forever  (Silver Springs #1) by Brenda Novak, Knowing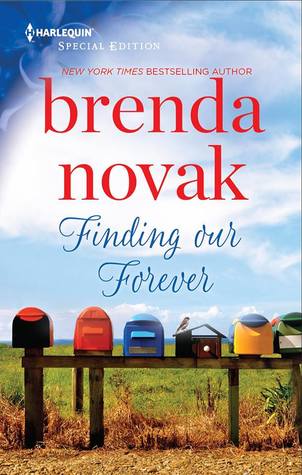 that she's adopted isn't what Cora Kelly is struggling with. No, she had a wonderful childhood and has terrific adoptive parents. What she longs to know is who her birth mother is and why she gave Cora up. And after lots of searching (and lots of money) she finds out Aiyana Turner, the founder and leader of New Horizons Boys' Ranch, is her mother. Snagging a job as an art teacher there puts Cora in the perfect position to determine if Aiyana might be willing to get to know her. But she encounters a big complication with Elijah Turner, one of the former troubled youths who Aiyana has adopted over the years. Eli turns out to be the man of Cora's dreams and they have incredible chemistry together. But as time wears on, her lie of omission–of who she truly is–wears on her more and more until she has to face up to her real reason for being at the ranch.
'Regardless of Elijah, did she dare–or even have the right–to upset Aiyana's life by announcing her true identity? Would Aiyana be happy to have found her?'
Eli was pretty much knocked out over Cora from their first meeting. But that's not why he hired her for the ranch. There's just something about her artwork that he knows will resonate with the students. And Eli's proven right when she connects with her classes and most certainly with his adoptive mother Aiyana. It seems like Cora is interested in finding out more about Aiyana but he can't tell if it's just her inquisitive nature or if something else is going on. After the way Eli was raised, he knows he has a tendency to not trust people readily so he gives Cora the benefit of the doubt. Now if he could just convince her to give their burgeoning relationship a chance, as scary as that might be, he has a feeling it could so be worth it.
'Taking her hand, he held it to his chest so that she could feel how hard his heart was beating. Maybe he couldn't promise her forever, but she wanted him. She'd just said so. And he wanted her.'
Can you say complicated? Finding Our Forever sets up Brenda Novak's newest series, Silver Springs, in a most compelling way by redefining family and delving into character's dark pasts to set them on their path to a happy future.
'As normal as he came off, every once in a while there was something in his eyes that reminded her of an animal that'd been beaten so often it growled or showed its teeth even when someone tried to be kind.'
Every time I read a novel by Brenda Novak I'm wowed by how much she puts her characters through, how hard they have to work for their HEA. And I love that fact. Finding Our Forever was definitely the same, with the complex situation Cora and Elijah were in and with his horrific childhood still haunting him. I will caution that although the overall tone was upbeat, the glimpses we had of the abuse Elijah suffered as a child might be a bit intense or a trigger for some readers.
Because this book was a bit abbreviated compared to others by Novak (around 224 pages) it moves along at a pretty good clip. I didn't find it too fast, but I would have liked to spend more time with the characters–which just makes me want book two to come out that much faster! But I did enjoy my time with Elijah, Cora, Aiyana and the rest of the New Horizons team. I'll admit it took some time to sort it out in my head that Cora and Eli were not blood-related, that it was technically okay for them to pursue a relationship. And I'm not typically a fan of deceptive characters, but in Cora's case I understood her need to keep her identity a secret from Aiyana. I had to give her credit that she went into things trying to read the situation before changing her birth mother's life forever. But the longer Cora kept her secret, the tougher it was for her to set things right.
My heart of course went out to Elijah and the boys at the school who were overcoming some mighty big obstacles. His story in particular, not that we got all of the details thankfully, was shocking and absolutely heartbreaking. So to see Eli as a functioning member of the New Horizons team and even a role model to the boys in the school was wonderful. I loved that he was willing to take a chance with Cora, even though it scared him, and that she was so understanding of his emotional limitations. And I really did find Cora to be a caring woman overall. I obviously couldn't hold it against her that she wanted to meet her birth mother and could see why she'd want to know what happened and where she came from. It also seemed like New Horizons was a good fit for Cora, making her feel like she was doing something important, helping the students express themselves through art.
A difficult situation. Lies of omission. Tangled emotions. And a love powerful enough to overcome all of the above. Finding Our Forever was another winner by one of my go-to authors, Brenda Novak.
Book Info:

Publication: March 21st 2017 | Harlequin Special Edition | Silver Springs #1
New York Times bestselling author Brenda Novak welcomes readers to the town of Silver Springs, where surprises wait around every corner!
The search for her birth mother brought Cora Kelly to the New Horizons Boys' Ranch. Getting a job there was easy enough, but confiding in the ranch's owner that she's really her daughter? That task is daunting. Especially with Elijah Turner watching her every move.
Elijah can't deny his deep attraction to Cora. But there's something about the ranch's newest employee that has him questioning her motives. If she's there to hurt his family, there'll be hell to pay. Yet, if the feelings the lovely teacher awakes in his guarded heart are any indication, Cora's appearance might be just what they were all waiting for.