Fire Me Up (Deacons of Bourbon Street #2) by Rachael Johns is the second in the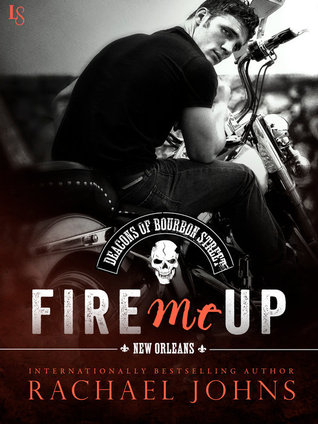 Deacons of Bourbon Street MC books. Four books about the four main members, each book written by a different author. I can tell you that yes I did read the first book, no I was not lost in the middle of the series because this book reads stand alone giving you some of the back story. This is Travis and Billie's Story.
Travis, known to his MC brothers as Cash, was one of 4 that were sent away from the Deacons of Bourbon Street 10 years ago after one last job went wrong. Having carved out a life for himself away from the MC, the last thing he wanted was to be called back after the death of Priest, the MC President. When Travis returns to NOLA he wants to just come in, pay his respects and quickly get out. But getting the guys to agree to sell the property that was left to them is harder than expected and with the hottie that is running the gallery in the building that use to be the MC Clubhouse, Travis may have more trouble than he can handle.
After years of being told that she was not good enough, being told what she could and coune not do by her ex-husband and by her parents Billie left Australia and found a home, a place to belong and a career that she loves in NOLA. That is until Travis walks in and turns her world upside down. The only problem is that she might hate him just as much as she wants to be around him.
When questions about Priest's death force the Deacons to look into what really happened, rival MCs, long thought dead abusive parents, and pride might come between Billie and Travis if they are not careful.
What I loved about Billie and Travis is that they got each other. Yep, their chemistry was off the charts and both were afraid to let down their walls and take the chance that they might get hurt, but it was a risk worth taking. Travis was so supportive and encouraging where Billie was concerned. Allowing her the freedom to sketch again. Billie, although she thought that Travis should make peace with his mother, did not force the issue and made it clear that it was his choice, she was not going to do anything to try too sway him.
I loved the interaction with the Travis and the other club members. At times is was funny, sometimes scary, but there is a mystery to unravel and we will have to see where things lead. I look forward to reading more in this amazing MC series.
Book Info:

Publication: September 1st 2015 | Loveswept | Deacons of Bourbon Street #2
Can a scorching affair with a bohemian beauty tame a motorcycle man with a dark side? Rachael Johns takes the wheel in the sexy series co-written with Megan Crane, Jackie Ashenden, and Maisey Yates.
Travis "Cash" Sinclair values only two things from his days with the Deacons of Bourbon Street: his prized Harley Davidson and the man who gave it to him. But now Priest Lombard is gone, and Cash has inherited the Deacons' clubhouse—not to mentions its unexpected tenant. She's exactly the type of woman he tries to avoid: all incense and art, with a sharp tongue that promises trouble. So why does Cash want to push aside those flowing skirts and lose himself between her legs?
Billie Taylor fled a bad marriage to start a new life among the grit and glamour of the French Quarter. She refuses to let another man distract her from her dreams, especially an outlaw biker with nothing to offer except hot sex and an eviction notice. Cash is dangerous, with an untamed streak he tries desperately to conceal. He drives Billie wild, sending her too close to the edge for her own good. And she won't fall under his spell—or into his bed—without a fight.