In Firestorm by Donna Grant, Dimitri, King of the white dragons, is ordered by Con, the King of Kings, to go to the site where Dr. Faith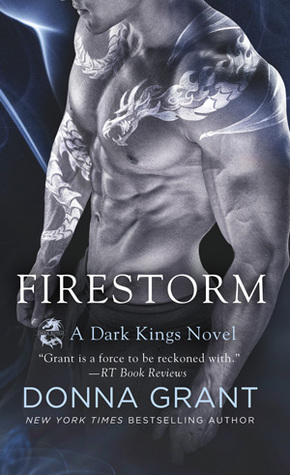 Reynolds claims to have discovered the remains of a dragon. In the war between humans and dragons thousands of years earlier, Dimitri was sure he disposed of all the dragon bodies. This one showing up in the cave is suspicious, but he's also suspicious of what led Faith to the cave in the first place. When it becomes clear that evil forces are out to get not only the dragons but Faith, too, Dimirtri and his friends have to figure out what's really going on before someone winds up dead.
This is the tenth book in the series. I haven't read the previous books and honestly, I was a little confused. It's clear that things that happened in previous books crossed over into this one. Things are mentioned about events that took place previously, which left me feeling left out since I haven't read about them. There was a brief flashback at the beginning of the book to the fight between the humans and dragons, and Dimitri explains it to Faith, but it still felt like something was missing. There were so many characters mentioned that it was hard to keep up with which characters were together, which ones were what (there's dragons, druids, humans, warriors, and fae), and who was out to get who.
When a life-threatening situations forces Dimitri to reveal his true self to Faith, I was surprised by how well she took it. Instead of being surprised or shocked, she sat down and had a conversation with him about what happened to the dragons. One would think if a man suddenly turned into a dragon right before her eyes, she would have experienced some form of shock or disbelief. I had a hard time buying how calmly she took everything in.
I didn't like how the book abruptly ends. It just stops. I kept trying to flip the page, only there was nothing there. It definitely implies there will be another book in the series, and that unresolved scenarios in this book–and there were a few–will be carried over into the next one.
If the book had focused more on just Dimitri and Faith and their romance instead of throwing in all the other characters as well, I probably would have enjoyed it more. I've read other books by Donna Grant before that I've loved (her Sons of Texas series is amazing), but this one didn't really work for me. There's just so much going on with so many different characters it left my head spinning.

Book Info: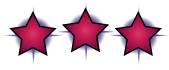 Publication: March 7, 2017 | St. Martin's Paperbacks | Dark Kings #10
Dimitri lives to protect the secret of the Dragon Kings from the human race. Bound by a bond stronger than blood to the Kings, Dimitri uses his strength and prowess to defend a thousand-year-old secret. But when an oh-so-sexy, slightly absent-minded archaeologist wanders into his midst, Dimitri will have to give up his rules, and give in to desire…
When Dr. Faith Reynolds stumbles upon an ancient skeleton that appears it comes from a dragon, she's completely taken aback. A woman of science, there's no way in her mind that this mythological creature can exist. But when a devilishly handsome man named Dimitri intercepts her path to uncovering the truth, Faith's curiosity turns into all-consuming passion. She's never felt this way about any man before. But when Dimitri reveals his biggest secret, can she learn to love the man—as well as the dragon within, in Firestorm, the next Dark Kings novel by New York Times bestselling author Donna Grant.