Fix Her Up by Tessa Bailey: Georgette loves kids and making them happy, so becoming a birthday party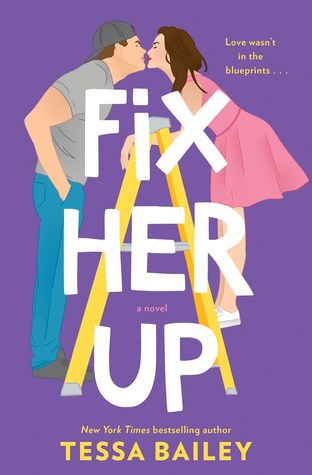 clown is a great career choice for her. But her career does make it harder to get what she wants so much from her family and her town: respect and being seen as an adult. She's smart, funny, ambitious, and honest.
Travis was living the life everyone expected of him as one of the hottest players in baseball, until an injury meant that his dream came to a brutal and very public end. He used his talent to escape and now he's back in his hometown and without any plans for what comes next. Over his playing years he's also developed quite the reputation as a playboy and he has no plans find love or commitment.
Georgie was always the little sister and had the not-so-secret crush on her older brother's best friend. Now that Travis is back she's quick to realize that she's still attracted to the grown up version of Travis. He's surprised to see how much Georgie has grown up…both in looks and how feisty she is.
"I'm sorry, okay? You can stop punishing me for it now."
Confusion slipped in. "How am I punishing you?"
Travis pulled off the car and crossed his arms. "For a while there I couldn't walk two feet without tripping over you. Now nothing." A vein stood out on his temple. "What's this about a date?"
Working for Georgie's family construction company isn't permanent, but it's a step forward and demo is therapeutic. Georgie is an unexpected bright spot as she is unflinchingly honest and addresses the difficult topics while also rescuing him from some of the more determined locals. Pretending to date each other is self-serving for both, but it's also complicated when he's attracted to the one woman he shouldn't date. They tell themselves and each other it's fake, but it looks and feels pretty real.
A moment later, she was alone again with Travis, who was definitely battling a laugh behind his fist. "It's not funny."
"Please stop. You know it's funny."
"I'm trying to have a serious conversation with you."
"You're dressed like a clown and my face is painted like a dog, baby girl. It ain't happening."
Fix Her Up has humor, heat, heart, banter, and family. Tessa Bailey pulls you in from the beginning and keeps you hooked until the end. Ms. Bailey created endearing and entertaining characters in a fun new series. Fans of Jaci Burton and Lorelei James will love Fix Her Up.

Book Info:

Publication: June 11th 2019 | Avon | Hot and Hammered #1
A brand new romantic comedy from New York Times bestseller Tessa Bailey!
Georgette Castle's family runs the best home renovation business in town, but she picked balloons instead of blueprints and they haven't taken her seriously since. Frankly, she's over it. Georgie loves planning children's birthday parties and making people laugh, just not at her own expense. She's determined to fix herself up into a Woman of the World… whatever that means.
Phase one: new framework for her business (a website from this decade, perhaps?)
Phase two: a gut-reno on her wardrobe (fyi, leggings are pants.)
Phase three: updates to her exterior (do people still wax?)
Phase four: put herself on the market (and stop crushing on Travis Ford!)
Living her best life means facing the truth: Georgie hasn't been on a date since, well, ever. Nobody's asking the town clown out for a night of hot sex, that's for sure. Maybe if people think she's having a steamy love affair, they'll acknowledge she's not just the "little sister" who paints faces for a living. And who better to help demolish that image than the resident sports star and tabloid favorite?
Travis Ford was major league baseball's hottest rookie when an injury ended his career. Now he's flipping houses to keep busy and trying to forget his glory days. But he can't even cross the street without someone recapping his greatest hits. Or making a joke about his… bat. And then there's Georgie, his best friend's sister, who is not a kid anymore. When she proposes a wild scheme—that they pretend to date, to shock her family and help him land a new job—he agrees. What's the harm? It's not like it's real. But the girl Travis used to tease is now a funny, full-of-life woman and there's nothing fake about how much he wants her…