Ice Cream Lover by Jackie Lau: Ever since Drew's last girlfriend broke up with him, and then wrote a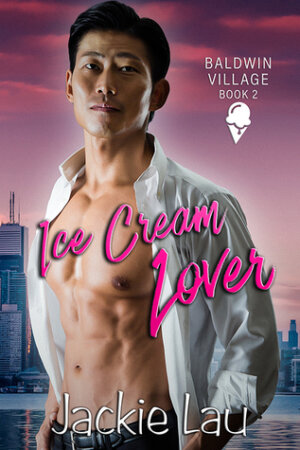 successful tell all book called 'Embracing Your Inner Ice Cream Sandwich' that was less than flattering to Drew, he hasn't been able to eat ice cream – a small problem since his young niece absolutely adores an Asian inspired ice cream shop, Ginger Scoops, run by Chloe Jenkins. Chloe isn't immune to the attractive Asian man and his cute niece who keep visiting her heart and soul, the shop she wants to make into a success to honor her Chinese heritage on her mother's side. But if she can't tempt Drew to try her ice cream, does she even have a chance of capturing his heart?
This is a fun, lighthearted, character driven romance (but not without its serious subjects) that will be impossible to get all the way through without indulging in either ice cream or pie (as Chloe is friends with a gourmet pie maker Sarah who always brings her treats). And of course, Chloe is eventually able to pull the story out of Drew as to why he hates ice cream, and make him realize that if he wants to let the past go, he needs to get over his ice cream phobia and learn not to associate it with his ex.
Along the way, this couple gets to explore their attraction to each other in some sexy scenes. The characters' Asian heritage, and for Chloe, what it's like to be of mixed Caucasian and Chinese descent with a white father and her difficulties in knowing where to fit in are explored well, and from an authentic viewpoint by the author. The story also delves into Chloe's struggles with her mother's death. Drew's niece, a budding foodie is smart and funny and the perfect foil for her grumpy Uncle Drew. And Chloe's grandmother is another fun secondary character (who has just discovered texting and emojis to Chloe's amusement, and the readers). Soon Drew doesn't need an excuse to visit Ginger Scoops and see Chloe as their relationship develops, and they work their way towards a happy and very satisfying ending.
Ice Cream Lover has got lots of laughs, lots of ice cream and pie, and two characters with depth and heart who have their own unique life challenges to overcome. The multicultural Toronto setting is a plus too. If you're looking for a lovely summer read, this is one I definitely recommend!
Book Info:

Publication: May 21, 2019 | Self Published | Baldwin Village #2
I hate ice cream. Ever since my fiancée left me at the altar and skewered me in her bestseller "Embrace Your Inner Ice Cream Sandwich: Finding the Positive You in a World of Negativity," I haven't been able to stomach the stuff.
Unfortunately, my five-year-old niece is a budding foodie and her favorite place in the world is Ginger Scoops, a cutesy Asian ice cream shop. Since I've been looking after my niece a lot lately, I've spent too much time there, sipping black coffee, refusing to eat ice cream, and trying not to look at the owner, Chloe Jenkins. Chloe is obnoxiously cheerful, and I can't stand her.
Naturally, I end up kissing her.
But I've sworn off women after the fiasco with my ex-fiancée, and I'm convinced I'm no good at relationships. Still, with Chloe I'm tempted to do the impossible: give love and ice cream another chance…