In Fool Me Once (First Wives #1) by Catherine Bybee, As a divorce attorney who works closely with Alliance, a service for high profile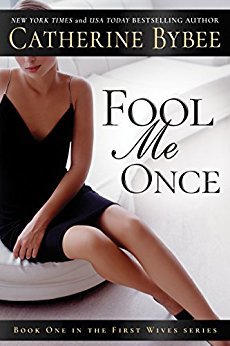 clients looking for temporary marriages, Lori Cumberland might just be a tad jaded when it comes to marriage. Especially considering she's experienced firsthand how hurtful divorces can be. So when Lori embarks on a cruise with some of her clients, a group of women whom she considers close friends, romance wasn't even on her radar when she met handsome Reed Barlow. Right away she tries in vain to play it cool, to have a vacation fling, but things get complicated fast. Threats against one or more of her clients–and to her as well–has Lori in the midst of a dangerous situation. And she's almost afraid to look too closely at just what part Reed might be playing in all of it.
'Unfortunately, after years of witnessing the cycle of love, marriage…failure, it was difficult to start anything in her own life without seeing the end before the second orgasm.'
Private investigator Reed Barlow tries to always play on the right side of the law and keep his nose clean. But he has a feeling his latest case is going to push the boundaries or outright break through them. From the moment he sees Lori, Reed feels more than just the sparks of desire. He feels protective of her–and her friends as well–which will complicate matters, considering the information he needs to provide to his client. Even when the cruise is over and they're back stateside, Reed can't let go of Lori. He tells himself every time he visits her that he's going to explain who he really is but the timing never seems right. One thing he can be sure of, though, is that he would do anything in his power to keep her safe. And that's something that he has a feeling will come into play sooner rather than later.
'The pit he was sinking in just kept getting deeper. There wasn't a way to walk away.
Not that he wanted to.
…The hardest part was going to be the fall. The moment Lori realized why he was in her life, and the look she'd have on her face…'
All about the bonds of female friendship and with a touch of danger thrown in to keep things lively, Fool Me Once started off Catherine Bybee's new First Wives series in grand style. And fans of her Weekday Brides series will be sure to enjoy this spinoff, too, as we got to catch up with some of the cast, with this being set in the same world.
"I can't close my eyes without seeing you. I swear I hear your voice ten times a day. I stare at the pictures of you on my phone while I'm at stoplights."
Lori felt a smile on her lips.
"It's not funny…I've gotten two tickets for distracted driving just this week."
Now she laughed.
I had a lot of fun with this book–as I *always* do with Bybee's work–but I was pleasantly surprised by how many times I chuckled at Lori and Reed's intelligent-yet-sexy bantering and the conversations between Lori and her awesome friends. I loved how those humorous moments added some lightheartedness given the tough situations they were all handling: divorce, personal threats, abuse, and even suicide. Best of all, everything was done in a realistic manner. From the range of emotions each character felt to how they went about their lives, it all felt genuine and I always understood where they were coming from.
Now I'm all for strong female characters and every single one we got to meet here was smart and could stand up on her own two feet. (I seriously wanted to be included in this group of friends–especially when they went on their cruise. Count me in!) Lori, Shannon, Avery and Trina were endearingly flawed and loyal to the end. And I had to admire that they had each other's backs in any situation. Which came in handy when they each faced their own personal dilemmas.
The romance between Reed and Lori fit their personalities, I thought. He was a P.I. and she was a divorce attorney so you already knew they were going to be a bit cynical and play things close to the vest. So while they did have some seriously steamy scenes together, Lori and Reed weren't all passion and fire. Instead, they were cool-headed for the most part. I did think they made a lovely couple who brought out the best in each other. Although with Reed starting things off on the wrong foot, not telling Lori who he was and what he was doing…it was a train wreck waiting to happen. But I did like that Reed was so conflicted and he truly did want to do the right thing by Lori and her friends. Don't worry, though. He totally redeemed himself by the end!
Rich with emotion and some of Bybee's best dialogue to date, Fool Me Once captured my attention and didn't let go until the final sentence. I think contemporary romance fans will be thrilled by this new series!

Book Info:

Publication: September 19th 2017 | Montlake Romance | First Wives #1
From Weekday Brides to First Wives, a dazzling series about four women and their alliance of newfound friendship, unexpected love, and second chances.
Cynical divorce attorney Lori Cumberland lives by one motto: Love is grand, but divorce is a hundred grand. With one failed marriage under her own personal belt, Lori had fallen hard and early—and it isn't something she plans on repeating. She's content focusing on the temporary marriages of her rich and famous clients. When she joins some of her recent divorcées on a celebratory cruise, her only vow is fun, sun, and new friends. But Lori finds herself tempted by a jury of one.
For Reed Barlow, falling into the world of private investigation was easy. He knows the law and knows how to avoid breaking it—all while doing his job. His rule to live by? No emotion, no involvement…until Lori. His charming smile and cocky attitude distracts Lori and lowers her guard, which is exactly what Reed desires.
But what appears as a one-time-only flirtation may be a plot orchestrated by Reed. As he's taking his investigation to a dangerous level, it's Lori who could end up in jeopardy. Reed has only one shot for Lori to grant him a second chance. But if he comes clean with her, he blows his cover. And that just might cost him the opportunity for an alliance of family…and of love.