Fool Me Once by Katee Robert takes two uniquely strong people, who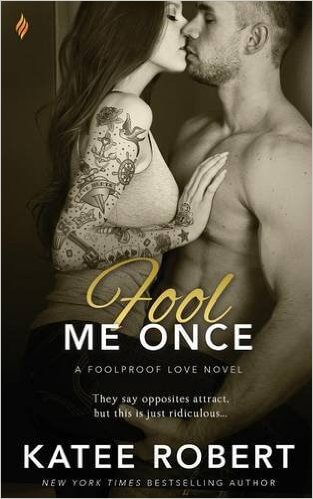 show no love for each other and urges them together while pushing their boundaries. The end result…one heck of a sexy read!
Quinn and Aubry don't like each other but can see each other's potential to solve their problems. He needs a date to his sister's wedding and she needs someone to keep her away from crowds at her game testing.
Aubry is a very unique heroine. She's quirky, brilliant, has a smart-mouth and is afraid of random things. Mostly crowds and zombies. Normally she avoids people and crowded places but she was just issued an amazing, once in a lifetime invitation that she really can't pass up. Just thinking about all the people that will be there is enough to send her into a panic attack. Good thing Quinn knows how to calm her down. Aubry can come off prickly in the beginning, but once Quinn starts to peel back her layers, he sees the real Aubry and this is a woman he wants to more about. Aubry hasn't had an easy life and she and Quinn really are opposites in every way. Quinn's family is wealthy and sophisticated and Aubry never had much. The only thing she could count on was her gaming.Quinn keeps his side of the deal and is there for Aubry and helps her get out of her comfort zone, but he adds more to the deal.
"In his wildest imagination, he never would have guessed he'd ever get the green light from Aubry Kaiser.
And he'd been half a breath from backing her into that filthy bathroom and bending her over that sink."
He wants Aubry anyway he can have her and since the attraction is mutual, they agree to a truce until they get home. Will their truce last, or will it all come crashing down?
I enjoyed both characters Immensely. Quinn is sexy, confident, and such a take charge alpha. The way he handled himself with Aubry was nothing short of amazing. Their witty banter and sexual tension make for a must-read!

Book Info:

Publication: August 1st, 2016 | Entangled Publishing | Foolproof Love #2
They say opposites attract, but this is just ridiculous.
Aubry Kaiser doesn't like people—actually, that's not right. She loathes people. With her crippling anxiety, there's no way she can demo her favorite video game at a convention with five thousand other people. Maybe if she brings someone to act as a shield…
But the only person available is the sexy cowboy she can't stand.
Quinn Baldwyn is in a mess of his own. He's been dodging his wealthy family's matchmaking attempts—and life advice—for years, but with his sister's wedding on the horizon, he needs of a shield of his own.
He and Aubry can barely hold down a civil conversation, but in bed…fireworks. And the closer they get to Quinn's sister's wedding, the more he realizes that he might actually like Aubry.
Now it's up to him to convince her she might actually like him, too.