For My Own: A Contemporary Christmas Anthology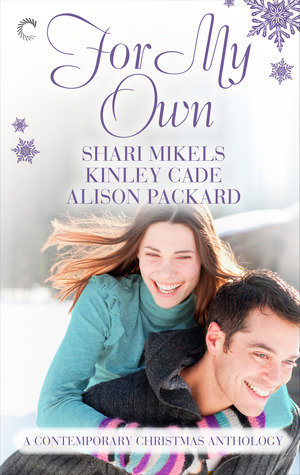 Snowy days and steamy nights
This year, a modern-day Scrooge learns the true meaning of Christmas with the help of a suddenly sexy old friend. A down-on-his-luck baseball star finds a beautiful new beginning with a hometown girl. And a prim-and-proper teacher is determined to bring out the holiday spirit in a grumpy tree farmer. Settle in for the season with this collection of very merry short fiction.
Christmas for Carrie by Alison Packard
In Christmas for Carrie by Alison Packard, Nick has returned home for the holidays, he is no longer the geek he was in school but a successful sports agent now. After he arrives into town he runs into Carrie and is pleasantly surprised to see her. She is so beautiful, how could he have missed this back in high school?
Carrie hates Christmas since it reminds her of her childhood and all the Christmas that were not happy at all thanks to her parents. So when she runs into Nick she is in a very bad mood. That doesn't take away the feelings and the old crush she had for Nick back in school though. So when he asks her out she immediately says yes.
When Nick learns about Carrie's past he decides to make it his mission to change her mind. As he gives her Christmas tasks, Carrie starts to enjoy herself and starts to like the holiday, until a ghost from her past comes back and brings with it all the bad memories that have haunted her all her life.
Carrie will have to learn to let bygones be bygones and put her past to rest, otherwise she may just end up loosing the only man that has taken his time to try to get her to move on and enjoy the holiday season. While Nick will have to be tough and show Carrie that the past belongs in the past and not in the present.
Christmas Curveball by Sheri Mikels
In Christmas Curveball by Sheri Mikels, Rachel has had a mishap and finds herself all nice and cozy on Kevin's couch wearing his sweats. To pass the time they decide to play a game of Truth or Truth, only they end up finding out more than either had hoped.
What started as a game, ended up leading them to opening up about their feelings. Soon they both find themselves surprised that they both felt the same back in their teens, only difference is that now they can act on it.
But Kevin is a professional pitcher leading the life, he spends his time traveling and partying with lots of female company according to the press. While Rachel is recently divorced with trust issues due to her ex's cheating. Believing that she will be enough for Kevin will not be easy for Rachel. Now it will be up to Kevin to prove to her that he loves her and that she has always been the girl for him.
Kissing Her Scrooge by Kinley Cade
In Kissing Her Scrooge by Kinley Cade, Hannah always does her best to make every Christmas better than the last, even though many drive her batty enough to maybe give up (which she won't). Her only problem is that the one man who catches her eye is the man known as the local Scrooge. Griff and her couldn't be more different, but the chemistry continues to bring them together, no matter how much thry both try to stay away from each other.
Both Griff and Hannah have deep feelings for each other, but they both have secrets from their past that they are unwilling to open up about. Trust will be the biggest issue that Griff and Hannah will face in their relationship, for without it they will face many heartaches and misunderstandings.
Once they learn to trust each other and to open up, they will find the one person who can bring balance to their lives.
For a heartwarming and sweet read, don't miss For My Own: A Contemporary Christmas Anthology.
Book Info

December 2013 by Carina Press
Edited by Angela James, this anthology includes:
A Christmas for Carrie by Alison Packard
Christmas Curveball by Shari Mikels
Kissing Her Scrooge by Kinley Cade