Forbidden Pleasure by Taryn Leigh Taylor: Sometimes it takes a life changing event to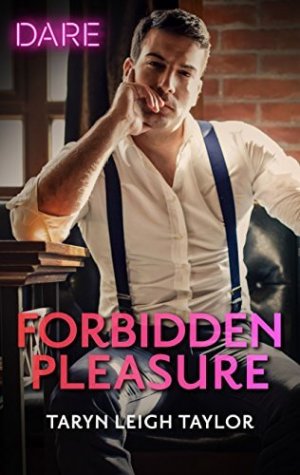 shake you, to make you, to finally have you realize that there is more to life than what you are doing now.
Emma Mathison got that. She also finally figured out a way to move on, to move forward. She was going to go and make some memories. She was going to do it her way and what was more, she was going to do it without hurting anyone. Or at least that was her goal, and hopefully her reality.
Max Whitfield was confused. He couldn't figure out why at this point in his career something wasn't right. He just knew though that something wasn't there, no matter how much of himself he poured into the company, how many things he denied himself, how much he gave up. It wasn't enough, it was never enough.
Then Emma and Max's relationship was no longer boss/employee, then the world changed and less than 24 hours later it changed again. When worlds start to cave perhaps the first event to change your life was only the one that started the landslide.
Wow, Ms. Taylor certainly knows how to make them hot. This does seem to be a pretty popular trope this month but Ms. Taylor has made this story her own and given it life to really pop off the page by making these characters feel real. The insight that she gives her readers helps to connect them to the characters and really have a desire to see a HEA. This does have elements of BDSM but again with insight to both Emma and Max that honestly makes you think they are your friends. For a novella this is honestly a great read that will have you looking for others that she has written.

Book Info:

Publication: August 1st 2018 | Harlequin Dare | The Business of Pleasure #1
In the boardroom or the bedroom…
She gets what she wants!
Emma has lusted after her steely-eyed boss Max Whitfield for years. When she quits her job she's finally free to seduce him—leading to a red-hot night of passion on his desk. But a furious Max soon discovers that his company's been hacked, and all signs point to his irresistible ex-employee. When Emma denies everything, his only option is a very hands-on investigation!
"Dare is Harlequin's hottest line yet. Every book should come with a free fan. I dare you to try them!"
—Tiffany Reisz, international bestselling author