In In His Father's Footsteps by Danielle Steel, Years of slave labor and brutality at the Buchenwald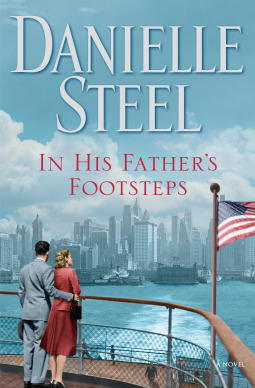 concentration camp in Germany finally came to an end in 1945 for Jakob and Emmanuelle. They somehow began a friendship rife with danger and beat the odds to not only survive the torture and horrors at the camp, but they also fall in love, gaining the chance to start their lives over by traveling to America. With not much more than the clothing on their backs and the will to succeed, Emmanuelle and Jakob work jobs for piddly pay with dreams of one day having a comfortable life there in New York. Over the years, they both work hard and save what they can while raising their beloved son Max. The grueling hours pay off when Jakob's business acumen begins to line their pockets with much needed cash.
'They both had been living in terror ever since they'd been deported… It had marked them forever, but the reign of horror and fear was long over. They had the luxury now of making choices, and deciding how they wanted to live.'
Max inherits his father's business smarts and once he graduates Harvard, he makes a name for himself in real estate. When he finally finds the woman he wants to marry, he ignores the doubts his parents voice over his bride and takes the plunge. But Max didn't realize how tough marriage could be. How difficult it would be to balance his hectic career, jetting all over the world, while trying to keep his wife–and the children that soon follow–happy. Looking at things from his father's calm, sensible perspective only makes Max more unsure if he's made the right decisions over the years. And it will take a few times of being knocked down, having to pick himself back up again before he can figure out what it is he truly needs and what his place in the world really is.
'Max had followed in his father's footsteps in his own way, his children would follow in his, and each would forge their own path, in honor of the past, in hope for the future, making new footprints of their own.'
A work of fiction that began at the very end of World War II and continued through until the present day, In His Father's Footsteps traced the path that one extraordinary couple took to begin a new life in America after surviving the terror of a German concentration camp.
'He remembered the strength his parents had given each other, the wisdom they had shared, the faith they had in each other's abilities, the encouragement, the support. They had even given each other hope in a death camp.'
I'm a big fan of books set in the WWII era–even though they pull at my heartstrings and generally make me cry. But the heroism and courage of those who fought back against the evil they faced during that time is such an inspiration. And Danielle Steel certainly touched upon that in this story. It started off during the final days of the war and detailed the fall of the Nazi Army, specifically at Buchenwald, one of the larger concentration camps. It will undoubtedly be heartbreaking for most people to read about the treatment of the prisoners there and to see the lifelong effects it had on Jakob and Emmanuelle. So for those sensitive to the subject of abuse, the first few chapters may be difficult.
Emmanuelle and Jakob were my favorite characters overall. Especially Jakob. He was an honorable man who could have been bitter and angry at the world for having lost everything while spending five years at Buchenwald. But he wasn't. Instead, Jakob was a loving husband, a doting father, and a stellar businessman. Emmanuelle kind of tore at my heart a bit more, as she had anxiety issues from her time in the camp. And rightly so. It was just tough to see her continuously struggle with her worry about war, money, safety–and then to pass that worry on to her son Max.
Now Max's journey was a different kind of heartbreaking for me. He was raised in America and had everything he needed but wasn't necessarily spoiled. Somehow, though, it was his choices when he finally settled down after becoming a successful businessman that really bothered me. I won't get into specifics, but neither Max nor his wife made very good decisions. And I'm not sure if it is the way Steel writes, with more of a storytelling feel rather than with tons of emotional depth that made me not connect with Max or if it was just the situation he and his wife put themselves in that annoyed me. But everything eventually did end well and in its own way, was tied back to Max's parents and their beautiful relationship.
A multigenerational story that I think will work for both fiction and romance fans, In His Father's Footsteps explored strong themes of love and desperation, poverty and wealth, and family and friendship.
Book Info:

Publication: Published September 4th 2018 | Dell Books |
In this powerful novel, #1 New York Times bestselling author Danielle Steel tells the story of two World War II concentration camp survivors, the life they build together, and the son who faces struggles of his own as a first generation American determined to be his own person and achieve success.
When U.S. troops occupy Germany, friends Jakob and Emmanuelle are saved from the terrible fate of so many in the camps. With the help of sponsors, they make their way to New York. In order not to be separated, they allow their friendship to blossom into love and marriage, and start a new life on the Lower East Side, working at grueling, poorly paid jobs.
Decades later, through talent, faith, fortune, and relentless hard work, Jakob has achieved success in the diamond business, invested in real estate in New York, and shown his son, Max, that America is truly the land of opportunity. Max is a rising star, a graduate of Harvard with friends among the wealthiest, most ambitious families in the world. And while his parents were thrown together by chance, Max chooses a perfect bride to start the perfect American family.
An opulent society wedding. A honeymoon in Tahiti. A palatial home in Greenwich. Max's lavish lifestyle is unimaginable to his cautious old-world father and mother. Max wants to follow his father's example and make his own fortune. But after the birth of children, and with a failing marriage, he can no longer deny that his wife is not the woman he thought she was. Angry and afraid, Max must do what he has never done before: struggle, persevere and learn what it means to truly walk in his father's footsteps while pursuing his own ideals and setting an example for his children.
Moving from the ashes of postwar Europe to the Lower East Side of New York to wealth, success, and unlimited luxury, In His Father's Footsteps is a stirring tale of three generations of strong, courageous, and loving people who pay their dues to achieve their goals.