Forbidden to Touch by J. C. Harroway is the third story in her sexy Faulkner brothers series 'Billionaire Bachelors'.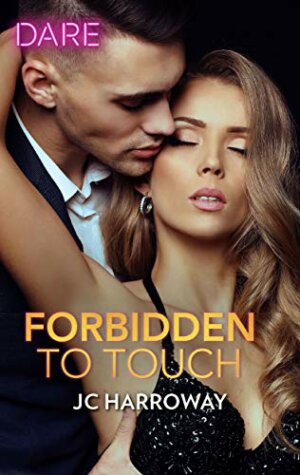 Working in the family hotel business, eldest brother Reid Faulkner knows that the mantle of leadership falls to him, especially with his father experiencing memory problems that might signal early onset dementia. When he discovers his father has made a business contract with family friend Blair Cameron to do some major interior design renovations, he's reluctant to go through with the plans during the hotel's busiest time but understands that honoring the contract is something his father would want. And it's no hardship to be in Blair's company.
Blair's family has a friendly business rivalship with Reid's but unlike the rest of her family, she's set off on her own with an interior design company. Though she had initially started it with her fiance, when she found him cheating on her it was the start of the end of their personal and professional partnership. A contract with a big hotel chain like Faulkner's is what she needs to get her business back on track. Blair has harbored secret fantasies of Reid since she was a teenager. Back in Reid's presence, those fantasies nudge her to take a leap of faith and make a double deal with him – do business together, and indulge in some sexy no strings attached nights. Reid is definitely interested, but will they be able stick to their deal of separating business and pleasure?
I've been enjoying this series and once again, the author has written and sexy and enjoyable story. Reid is struggling with the reality of his father's deteriorating condition. He questions whether Blair's contract was really made while his dad was of sound mind, and initially has suspicions that she might have taken advantage of his father's condition – after all, a hotel renovation during the height of tourist season will push people to the competition, who conveniently happen to be Blair's family. But being with Blair makes him realize she has a genuine affection and regard for his father and that she wants to help celebrate his legacy and hotel success.
There are plenty of steamy scenes as Blair shares her fantasies with Reid and he happily fulfills them, even as he tries to keep his emotions under wraps. Trusting people doesn't come easily to Reid after a failed marriage and he makes some mistakes but he eventually redeems himself and he and Blair get their happy ending, complete with a sweet family epilogue. Blair's strength of character and ability to go after what she wants, in business and in love, made her particularly appealing for me. Forbidden to Touch with its strong and likable characters and enjoyable romance is well worth the read.

Book Info:

Publication: Aug 01, 2019 | Harlequin Presents | Billionaire Bachelors #3
She made the rules. But he's changing the game…
Within thirty seconds of meeting Reid Faulkner again, I'm reminded of exactly why I had a crush on him for so many years. That confidence, that effortless control, that thigh-clenching hotness… Only, this time I'm not little Blair Cameron, sexually frustrated teenager. No, now I am an adult woman reliving every filthy fantasy I've ever had about him…
His dark, sexy stare is filled with naughty promises. Promises of sex. Great sex.
But I'm here to work for him. I have a contract, and I won't let any man—no matter how delicious—underestimate me again. So I am proposing a second contract. An unofficial one, where we explore my every desire. It's the perfect no-strings arrangement—all sex, no emotions. The only problem is that I made a concession: to play by his rules.
Now we've crossed that line and tasted the forbidden. It started with only a touch. But will a man who controls everything protect his heart at all costs…even if it means breaking mine?