In Forged in Steele by Maya Banks, Steele is all about his work at KGI – a family run, top secret business that runs some very covert operations. Having lost his family way too young, KGI is as close to a family as Steele has. Despite this, he is known for showing little if any emotion and he keeps himself closed off.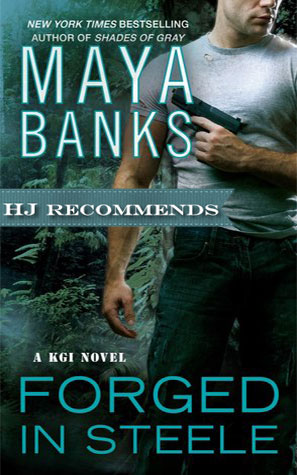 Dr. Maren Scofield is a practicing medicine in Costa Rica. She is happy with her life and choices even if she is a little lonely sometimes and there is one man she dreams of, a man she's sure can't stand her. She is very familiar with the KGI group, and when they bring more work her way, Steele also comes her way again. Maren has no clue that she occupies a lot of Steele's thoughts too…until wanting to get Maren out of his system once and for all, Steele and Maren share a passionate night together in Costa Rica.
But things don't always work out as planned, and neither one of them gets the other out of their system. Steele soon finds himself returning to Maren on his down time. Things are getting hotter when Steele is called away early for work. When Steele leaves, this time vowing to return, neither of them know the danger Maren will suddenly find herself in, or the secret she hasn't revealed. With Maren's life in danger from a madman and KGI on the hunt to save her, Steele quickly realizes he doesn't want to lose her. He will do everything in his and KGI's power to save her…at great risk to himself and his team mates.
Will they get to her in time? And if they can save Maren, will her secret push Steele away forever or bring them closer together?
Forged in Steele by Maya Banks is fast paced, with non stop action. Maya will pull you in and keep you there! I love all of Maya's character's and their maturity – not only in Forged in Steele, but in all of the KGI books.
In Forged in Steele, Maren and Steele make the perfect hero and heroine. Steele is protective, strong, and gets the job done. Although he is referred to as the Ice Man by some, he has more feelings buried inside than anyone thinks. Maren is strong and independent. I love how she doesn't try to play the solo heroine. She is brave and does what she thinks is right, but she also listens and understands that in some areas Steele and KGI are the experts.
Together Maren and Steele have a lot of chemistry that only gets stronger as Forged in Steele progresses. Maya writes with passion that pops off the pages, and I was once again easily immersed in the world of the KGI group and the unforgettable characters. Maya effortlessly weaves together passion and danger to bring you a story that will get right under your skin and make you want to know all of these people! There are a lot of great secondary characters in Forged in Steele…most of whom we have met before and will surely meet again. I love the family unit the KGI group presents, whether they are related or not, it gets stronger with each book. It was great to catch up with some people, learn more about others, and I look forward to more KGI books. I am really hoping Hancock gets a story…he has had me intrigued for a while now!
I love all of Maya's books, but this series is my favorite! I think Forged in Steele can be read alone, but to get the full impact of the series I highly recommend reading them all!
I highly recommend Forged in Steele to any romantic suspense reader…it has all the elements you are looking for!
Book Info:

Published June 25th 2013 by Berkley
The Kelly Group International (KGI): A super-elite, top secret, family-run business.
Qualifications: High intelligence, rock-hard body, military background.
Mission: Hostage/kidnap victim recovery. Intelligence gathering. Handling jobs the U.S. government can't…
Steele, a KGI team leader, is an enigma not even his team mates understand. His emotions are tightly locked down and nothing can break that icy exterior. Nothing except Maren Scofield, a doctor on a mission, a woman who has gotten under Steele's skin and threatens to crack that unflappable cool he's legendary for.
Steele is determined not to allow Maren past his carefully guarded defenses, but when she's in danger, there's no way he'll allow anyone else to protect her. She's hiding something. He's sure of it. But he isn't prepared for the shocking discovery her secrets reveal. Or how they will forever alter the course of his destiny. He has a decision to make. Hold tight and shut her out. Or take a chance on something more powerful than he's ever faced. Love.