In Forgotten Promises by Jessica Lemmon, Tucker is on a mission to retrieve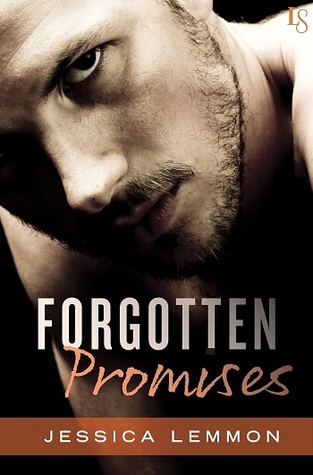 a tape that would prove his father committed horrific acts, and he needs to get it before his father opens up a camp for young children. Fresh out of prison, he knows he needs to find someone to help him.
I have no idea how I'm going to get that tape. It isn't as if I can go back and ring the doorbell. It's not like I can go to the police and plead my side of the story.
There isn't much sympathy for the ex-con who beats the police chief unconscious. Especially when the police chief is his father.
When Tucker runs into Morgan Young, a woman he knew from high school, he believe she's the answer to his problem. Her father is a well-known and respected lawyer. Before he can ask for help, police sirens sound out and he panics, throwing Morgan into the trunk of a car and driving her to an abandoned cabin.
Just a warning: this book contains situations of child abuse. If that's a trigger for you, you should stay away.
Despite his actions, I felt for Tucker. He's angry and shamed by what his father did to him and his brother. He feels guilty for his brother's death, believing if he hadn't been sent to juvenile detention then his father wouldn't have started assaulting him. He also feels bad for kidnapping Morgan. All he wants is to protect other kids from his father; he doesn't care what happens to himself in the process.
Morgan doesn't freak out at being kidnapped. Tucker is, after all, the person who saved her from an attack in high school. Instead of panicking, she uses her time in captivity to really learn who Tucker is. She feels bad for what he suffered through–at least the part he reveals–and decides to get her father to help him out. Tucker feels safer with her; she provides him with a sense of peace he never experienced before.
She hums, and the sound fills me with undiluted peace. She feels safe with me. And the opposite is also true: I feel safe with her.
Until just now, I'm not sure I've ever felt safe a day in my life.
I liked the fact that the book was told from the point of view of both Tucker and Morgan. It gives readers the chance to really see what both characters were thinking and feeling along their journey.
My only issue would be that Morgan was so strong throughout most of the book, but then she falls into a depressed state towards the end. It seemed a bit out of character from the way she was the rest of the book.
Jessica Lemmon has created an emotional story that is dark and heartbreaking, but also filled with hope. Tucker calls Morgan his angel, because she's the light to his darkness, the only one who gives him hope that there may be a better life out there for him. The hope that someone could actually love him despite his physical and emotional scars. I recommend giving it a read.
Book Info:

Publication: January 19, 2016 | Loveswept |
Morgan Young had a perfect upbringing, and now she's got a perfect boyfriend and a perfect future—until her twenty-first birthday changes everything. First Morgan finds out, in the most painful way possible, that her relationship is a sham. But that's nothing compared to the nightmare about to unfold.
It's too late for Tucker Noscalo. A brutal childhood left him with a bad reputation and a criminal record. Fresh out of jail, Tucker has a score to settle with Baybrook's crooked chief of police—his own father. Nobody will believe Tucker's explosive accusations without proof and a good lawyer, neither of which he has on his side. Until he sees someone he used to know, someone who just so happens to be the daughter of the best lawyer in the county.
He needs Morgan to convince her father of the ugly truth. But first he has to convince her, and he'll do whatever it takes to get her to listen. Confronted by the story of Tucker's dark past, Morgan feels utterly compelled to help him. And as their connection grows into a fierce bond fueled by raw passion, Morgan finds herself falling for the wrong guy—but never has the promise of love felt so right.