Fringe Benefits (The Ladies Who Lunch #4) by Sandy James is the story of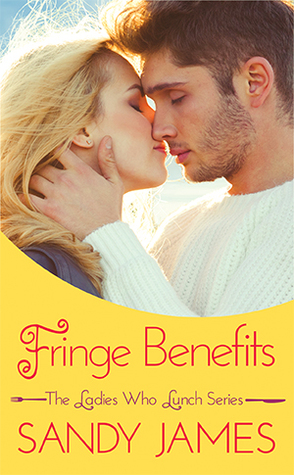 Dani. She is the last member of the "The Ladies Who Lunch" to find her own HEA and I loved every minute of it.
Dani is the new head of the English department, a huge accomplishment to her. Her life is busy and she has no time for love and relationships. When she is asked to act at mentor to the new teacher in town, she finds herself drawn to the the handsome new comer and she knows that her life is never going to be the same.
Nate is fresh out of college and confident in his abilities. When he starts working for Dani, he knows that she is it for him. But their age difference is anissue for Dani, and the fact that she is his boss might cause some eyebrows to raise. But when he knows what he wants, Nate will stop at nothing to try and get Dani to see that if she lets down her guard and ignores the rumor mill, their family issues, and their obsessive exes, they just might find something special.
I loved the relationship between Dani and Nate. Although they had a lot of obstacles in their way, there path to HEA was not a smooth one, but when the going got tough they stuck it out and that made their HEA even sweeter.
Book Info:

April 21st 2015 by Forever Yours | (The Ladies Who Lunch #4)
When life gets tough and love is hard to find, four friends take their troubles to lunch. High school teacher Danielle Bradshaw deserves a happily ever after, and the Ladies Who Lunch are determined to deliver Mr. Right.
HOT FOR TEACHER
As the new head of the English department, Dani doesn't have much time for anything but lesson planning and literature. Romance—or even sex? Forget about it. But then the principal introduces her to last-minute hire Nate Ryan. Finding time to mentor a new teacher won't be easy, especially when his incredible body and equally disarming charisma are enough to make her heart skip a beat . . .
Nate may be fresh out of school, but he's confident in his teaching skills—and in his feelings for Dani. But while she's everything he's ever wanted, he knows his place on her staff—and his age—may be problematic for his sexy boss. How can he convince her to ignore the gossip mill currently in full swing in the teacher's lounge and surrender to what's meant to be?