In Full Strength by Katie Kenyhercz, Alexandra Kallen has dedicated herself to helping injured athletes cope with their injuries and get back in the game. Since she used to play soccer in college, she knows what an injury can do to an athlete and personally knows how an injury can affect them both physically and psychologically. She hopes that as the new team psychologist for the Las Vegas Sinners she'll be able to help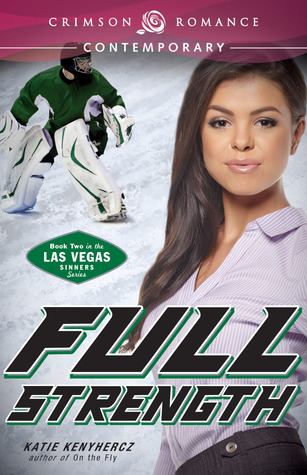 them. But being accepted and seen by the players voluntarily is not easy, so she starts with one player who has been injured and needs her approval before he will go back to play, but he is a handful and definitely not as open to seeing her as she is to seeing him.
Shane Reese is definitely not happy with his situation. Not only did he get a high ankle sprain right before the playoffs, after a few of his teammates were joking about it his anger got the better of him. Resulting with him putting his fist through the wall and on some of his teammates as well. Now he has been ordered to see the new shrink and talk to her before he can hit the ice again. The only problem is that he needs to lie to her and make her think that he knows better now and has seen the light and can go back to play as soon as his ankle heals, but she is not buying it.
Allie knows all the about lies, she already had that happen once before with another player, and she will not accept them that easily again. There is something about Shane that makes her see herself in him, almost like looking in a mirror. Therefore, she knows him better than he knows himself. Which is kind of scary for the both of them, especially since there is a chemistry that is not easily ignored.
Not only is it against policy and ethics for her to date a patient, it would only complicate matters. She doesn't want to lose her job and security she has now that she has settled in Las Vegas. But Shane will not give up that easily, he rarely goes after women, yet there is something about Allie that eh cannot get her out of him mind. He wants her and he cannot keep his distance from her. Only once they act on what they both want will put her job at risk and his chance to have the happiness he wants for himself too.
For a sweet, entertaining and a laugh out loud funny read full of chemistry, don't miss Full Strength by Katie Kenyhercz.
Book Info:

February 17th 2014 by Crimson Romance
After a bum knee ended her soccer days, Alexandra—Allie—Kallen has dedicated her life to helping injured athletes cope and get back in the game. As the new team sports psychologist of the Las Vegas Sinners, she starts out with just one player, but he's a handful. Goalies are stubborn, and she would know. She's determined to figure him out and return him to the net good as new, especially after she sent her last patient back to the ice too soon. The problem is, she sees so much of herself in Shane, and their chemistry is off the charts. Falling for him isn't in the plan. Is love worth losing her career?
Shane Reese's entire identity has been wrapped up in being a goalie since he was five years old. When he gets a high ankle sprain right before playoffs, he doesn't exactly take it well. After putting his fist through the physical therapy room wall and hitting a few joking teammates, he's ordered to see the new shrink. All he has to do is convince her he's seen the light, and he can get back to defending his team as soon as his ankle heals. The problem is, she sees through him like no one he's ever met, and the more time he spends with her, the less hot he is to get back to the ice. Could something mean more than hockey?