In Getting Off by Abby Green, Caitlin Ryan traveled to NYC from her home in Dublin, Ireland, to put her new college degree to good use. And to find the guy who can finally help her achieve her first orgasm. Twenty-three years seems like a long time to Caitlin to go without the ultimate pleasure. Her first night out in the neighborhood finds her meeting good-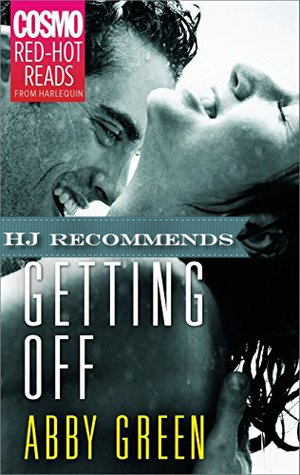 looking Liam Sullivan. Their chemistry is immediate and takes both of them by surprise. Liam decides to take a chance and ask Caitlin to leave with him. He has to see how strong their attraction really is.
"You're a gorgeous sexy woman but you're also an orgasm virgin and that needs to be rectified."
Liam is completely knocked out by the wild time they have together, but there's a problem. He knows Caitlin didn't get her part of the bargain. Caitlin is mortified when Liam points out the issue and finds herself confessing the embarrassing truth. He insists on spending an entire weekend devoted to figuring out the solution to her situation. But will Liam and Caitlin be able to walk away from each other once their time together is over?
'I knew that no matter what happened, this man had given me a gift.'
Holy smokin' hot novellas! Getting Off is exactly what it sounds like and is a prime example of what makes Cosmo Red Hot Reads one of the sexiest lines of stories from Harlequin.
Starting with page one, there was no doubt in my mind that this was going to be a novella full of lust, the hunt for the big O, and lots of fun but intense love scenes. Author Abby Green did a great job creating characters that shared a past of disappointment and frustration with their families, yet who were very different in their sexual history. I liked Caitlin and Liam's connection during their first encounter at the local bar where insta-lust scrambled their brains. And when he took it as a challenge to provide her with her first ever orgasm, I couldn't help but laugh at his male pride. Liam's alpha tendencies both frustrated and amused Caitlin, which I'll admit, was fun to read.
The only thing that bugged me a little bit was the lack of closure in regard to Caitlin's brother. She was looking for him while in NYC and it was mentioned a few times but we never found out if they reunited. Other than that, I really enjoyed getting to know Caitlin and Liam. Even though this was such a steamy romance, there was a sweetness to their growing relationship that was so nice to see. It made me feel like they were a couple who had serious potential for a solid future together. And that's always a lovely feeling to have when I finish reading a book. 😉
Getting Off is a great novella for fans of super hot romance. As entertaining as it was that Liam and Caitlin couldn't seem to stop ripping each other's clothes off, it was the bond that grew between them that had me invested in their story.
Book Info:


Published August 12th 2014 by Cosmo Red-Hot Reads from Harlequin
Caitlin Ryan has never had an orgasm—and she wants one! So does she
(1) Date lots of Mr. Nice-but-Wrongs and keep faking and hoping?
(2) Do a little DIY with a battery-operated friend and a lot of imagination?
(3) Go to NYC and have a wild night with a totally hot stranger?
When (1) and (2) don't work, Caitlin goes for (3). But even with motorbike-riding sex god Liam, old habits die hard, and yet again she has to fake it. Only he notices—and is not happy! Could things get any worse? Well, yes, when Liam becomes her new boss. But when Caitlin reveals that she's never climaxed, Liam rises to the challenge, offering a weekend of hot sex with the only goal her pleasure. Will letting him take control work? Caitlin can't resist finding out…