Getting Over It by Erin Nicholas: In this latest story from Sapphire Falls, Hailey has met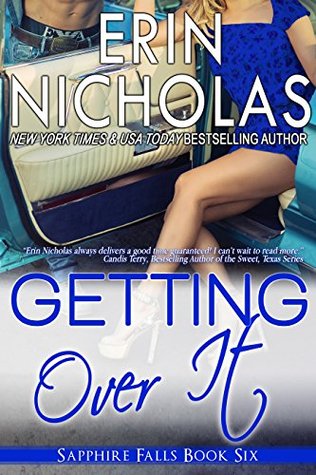 her match in Ty. As the Mayor, she's got a lot of responsibilities, and she's had a secret relationship with Ty while he was in Denver that made it easy for her to let her cares go when she was with him. But now he's moved back to town, and it's going to ruin everything. He's going to find out that she's not really his dream girl after all. Will this mean the end of their sexy interludes, or the start of a real and long lasting relationship between them?
I love visiting Sapphire Falls and this latest story, though easily read as a standalone, has been building since the first one of the series. The antagonism between Hailey and Ty is something familiar to their friends and family and they've always gotten a kick out of fighting with each other. When it led to a heated affair between them, they decided to keep it a secret. What was interesting about this story to me was how Tyler's character is revealed to be not so perfect after all. He's a bit on the selfish side, and it's only in realizing how what he's doing will affect Hailey's future does he come to realize this and try to find a way to fix it. I liked that he was willing to accept that his strengths could be considered flaws too, and want to become a better man for Hailey.
Hailey's character was equally interesting as this self assured, confident woman on the outside who really has a mess of emotions inside her that she's become adept at masking. When she's with Ty she gets to let go and let him take control – which makes for great lovemaking but not so great real communication. They've both made mistakes and are at fault for not being honest with each other about what they want from their relationship. They both need to change if they are going to end up happy together.
As usual we get some great cameos from the other people who live in Sapphire Falls, in particular the Bennett family brothers and parents and their partners. This leads to a combination of emotional and laugh out loud funny scenes and is part of what makes a visit to Sapphire Falls so enjoyable. There is a prequel novella available also , Getting To Her, that reveals Hailey and Ty's history from high school onwards. It doesn't need to be read first, but delves more into some of the scenes that are mentioned in Getting Over It, and reveals how their secret relationship came to be.
This story has a good mix of laughter, sex, and emotional moments. It was lovely to see Hailey and Ty get their happy ever after. 4.5 stars.

Book Info:

Publication: Aug 25 2015 | Self Published | Sapphire Falls #6
Hailey Conner has been driving Ty Bennett crazy for years. And vice versa.
It's kind of their thing. But Ty is ready to make their thing into something more. And he's moved in next door to make it happen.
But is he *really* ready?
Ty loves the confident, sassy, sexy mayor's Ice Queen act…because he loves making her melt. But he soon finds there's more underneath all that frostiness. And things are about to come to a full boil…