Getting Rough by C.L. Parker is book two in the Monkey Business Trio Series and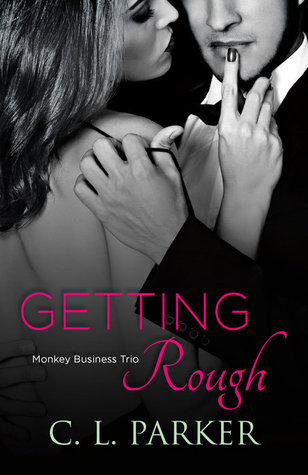 picks up where Playing Dirty left off. Once Shaw realized Cassidy was gone, he jumped on a plane and the chase began. Cassidy's reasons for leaving are her own and due to a family emergency. Shaw thinks Cassidy ran home and gave him their client because she felt sorry for him. Once he's in Cassidy's home town, all his answers are up for the taking. This book has a different tone than the first one but that's not exactly a bad thing. We get more emotion in this book and a look into each character's true feelings.
Cassidy is back in her home town and counting the days until she can leave. Until that happens, she has to help her parents run their bed and breakfast until her mom recovers from her fall. Although, being at home has one thing she can't live without or so she thinks; her best friend Casey. If you've read the first book then you know Casey and Cassidy grew up together and were best friends that eventually became lovers. They are not together but that doesn't mean that their feelings for each other has disappeared.
Shaw has no intention of going back home until he talks to Cassidy, but the talking comes later since they can't keep their hands off each other. When Shaw is clued into the relationship Cassidy has with Casey, he sits back and watches it unfold.
"My hero had become the person I needed rescuing from, and my enemy had become my savior."
Casey has always been the one to watch out for Cassidy, but the tables have turned because now Shaw is the one looking out for her. His attitude has done a complete one-eighty and he's more open to his feelings.
There's a great deal of feeling in this book and it just proves how realistic our characters our. The author gives us a love triangle and does a great job at bringing buried feelings to the surface. I think the addition of Casey was a great idea on the author's part, because it made Cassidy and Shaw think about what they really want and more specifically who they really want. Don't worry though because Casey gets his own happily ever after.

Book Info:

Publication: January 26th 2016 | Bantam | Monkey Business Trio #2
The next sizzling novel of C. L. Parker's Monkey Business Trio—perfect for fans of Bared to You and Beautiful Bastard
Hotshot San Diego sports agent Shaw Matthews and his sexy professional adversary Cassidy Whalen have gone head-to-head in the boardroom—and the bedroom. Now Shaw has scored a big promotion—but only because Cassidy turned it down and ran off. There are many things he wants when it comes to Cassidy—just not her pity. So Shaw rushes to a small town in Maine to retrieve his dignity—and maybe the woman he's hungry to claim once more.
Cassidy has pushed herself to the max to realize her career dreams—until a family crisis brings her home. But Shaw isn't letting Cassidy go that easily. Neither is gorgeous heartthrob Casey Michaels, the childhood sweetheart she left behind—and who now wants to win her back. As the rivalry between the two alpha males intensifies, and Shaw's seductive moves reach a whole new level of heat, Cassidy has to make a choice. And this time, it's for the highest stakes of all.