Getting Worked Up (Sapphire Falls #2) by Erin Nicholas: What a fun and entertaining story! This book focuses on Phoebe Sherwood, a woman who was born and bred in the small Nebraskan community of Sapphire Falls. She is a sparkly school teacher and about twenty-five percent of the town's population is related to her in some way. Phoebe gets along extremely well with everyone, from the youngest child to the oldest Husker fan. She is charming, smart, and believes she is in love with her best friend Matt, who plans on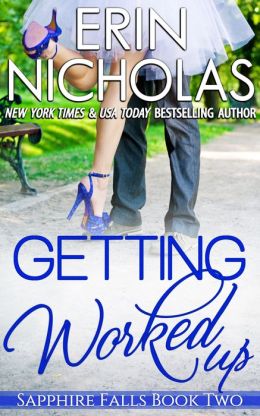 proposing to another woman in the very near future. Unfortunately, Phoebe does not think she is sexy, so she asks Joe Spencer, the new hot guy in town, to teach her about the art of wooing, so that she can show Matt what he is missing.
Joe Spencer is a city boy through and through. He is the son of Las Vegas casino owners, so he grew up in the fast line, gambling and winning from the time he was out of diapers. Between his fast-paced lifestyle and his need for beautiful women, Joe was losing his sense of self. So about a year ago he decided it was time to slow down and settle down. In addition to his new job as an agricultural political adviser, he wants to marry Nadia, his good friend and colleague. At one time Nadia had a huge crush on Joe, and now she is seriously dating Matt. Phoebe steps in to help Joe learn everything there is to know about Sapphire Falls, so that he will fit in with Nadia's calm and vanilla Sapphire Hills lifestyle.
Phoebe and Joe are wonderful together, because they truly "get" each other. The premise for their relationship is a little odd, yet their banter, antics and need for each other is precious. Ms. Nicholas does a wonderful job introducing all the characters from the first book, so Getting Worked Up can definitely be read as a standalone. I liked the pace of this book, however I found some of the scenes to be a little drawn out.
Personally, I love having the ability to read a series one book right after the other. It gives me the same satisfaction as watching a season cliffhanger on TV, immediately before the first show of new season begins. In this particular case, I was lucky to read books one and two of Sapphire Falls, one right after the other. As a result, all the characters were fresh in my mind and I was truly able to relate the first book with the second, without the need to reread chapters or scenes when my memory decided to ditch me.
I liked both the first book and the second book equally.
Book Info:

Published July 17th 2014 by Erin Nicholas | (Sapphire Falls #2)
Phoebe Sherwood is in love with the perfect man. Well, except for the fact that he's in love with someone else. But Phoebe isn't the type to let a little detail like that keep her from getting what she wants. And as she's plotting how to get him back, she meets the perfect solution—Joe Spencer. The city boy is in town to retrieve his sort-of fiancé—the woman who stole Phoebe's man— and when he hears Phoebe's plan to reclaim their respective soul mates, he's in
Bright and sparkly. That's Joe's first impression of Phoebe. He's always been attracted to sparkly things—like neon casino signs, sequined evening gowns and Porsches. In fact, his affinity for those things, and the trouble they can cause, are exactly why he's determined to change his habits and settle down.
But if he's going to win his girl back, he's going to need to learn a new way of life. Country line dancing, guzzling homemade moonshine and getting rid of his custom-made suits are what it takes to fit into Sapphire Falls… and he's got some work to do.
But Phoebe is the perfect coach.
And everything will be just fine… as long as they can keep their hands off of each other and remember which hearts they are trying to win over.