In Good Enough (Meet Me in Montana #3) by Kelly Elliott, Nurse Timberlynn Holden is ready to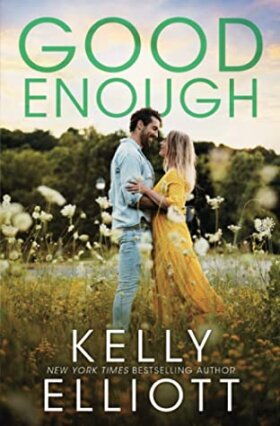 make some big changes in her life. Stuck in a career she never wanted, and longing for a connection with someone she can call her own, she sets off to Hamilton, Montana to start over. The countryside is every bit as wild and gorgeous as she remembers from her trip to cousin Kaylee's wedding a short while ago. And cowboy Tanner Shaw is just as handsome as Timberlynn remembers, too. But after being let down by every man in her life, including her father since the death of her beloved mother when Timber was five, she doesn't know if she can risk opening her heart again. Tanner sure puts up a good fight to win her over, though. And she has a feeling he'll probably succeed.
'I knew with all my heart that Tanner wouldn't hurt me. It was me who would end up hurting him. There was something that made me unworthy of love.'
Tanner has enjoyed the bachelor life for several years while on the rodeo circuit, roping steer and having a good time with his buddies–and a few ladies–along the way. But things feel off lately. After he and his roping partner Chance win another tournament, they both decide to head home to Montana for some downtime. And what perfect timing they have. Not only is it the holidays, but the one woman he can't get out of his head, Timberlynn, is moving to the area. And Tanner is more than okay with that. He'll finally get the chance to throw his hat in the ring and make his attempt to date her. Although he didn't realize just how much the beauty has been through in her life or how much of a struggle it might be to win her heart. Good thing the Shaws are a tenacious bunch. Tanner knows the struggle will be well worth it if he can convince Timber to give them a chance.
'I wasn't going to give up. I was going to fight for this woman, because I knew deep in my heart, I was truly starting to fall in love with her.'
Good Enough was a shining example of why I have fallen in love with Kelly Elliott's heartfelt writing–and with the Shaw family from her Meet Me in Montana series. This was the perfect type of tender and steamy contemporary romance to sweep me right off my feet.
"I'm so confused, and you make me want things and feel things I've never felt before and I'm scared."
"You don't think I'm scared? Do you think giving your heart to a person is easy? I've never felt like this before in my life, Timberlynn. I'm willing to trust you with my heart…can you say the same about me?"
Wow does Kelly Elliott know how to create a stellar cowboy hero! Tanner was one f-i-n-e FINE guy. And a lot different than you would think if you've read any of the other books in the series. Tanner wasn't quite the womanizer he'd been made out to be. He was definitely a flirt–but in the best of ways. And he knew how to romance Timberlynn and help make her feel better about herself, showing how smart and sexy he thought she was. I also loved Tanner's relationship with his family. They were a raucous bunch but *so* loving. (And we had lots of time with Tanner's brother Brock's absolutely hysterical, adorable son Blayze!! Who needs his own book once he grows up…just saying.) It was lovely to see how the Shaws banded around each other and never thought twice about supporting Tanner or any one of them when they were making changes in their lives.
Timberlynn was a whole other matter. She grew up the opposite of Tanner, with her father–a busy doctor–as basically her sole family after a tragic car wreck killed her mother when Timber was about five. She never had the love and support she needed to grow up confident. So I understood where that flagging self-assurance came from and why being around the Shaws would be an unknown environment to her.
While I adored how Tanner helped bring Timber out of her shell as she began to trust again, it did honestly bug me a wee bit that she was so hot and cold with him for a time, treating him rather poorly. But once she was all in, oh my word were they an awesome pair. Probably my favorite couple in the series, just for how well their views and future plans fit together–as well as their amazing chemistry, of course.
If I didn't already want to see Montana someday, the vivid descriptions Kelly Elliott included in Good Enough would most certainly make me head West to find me a cowboy–er, I mean ranch to enjoy. With big skies over fields of horses, even bigger romance, and a meddling but loving family, there was a whole lot to adore about this novel.
Book Info:

Publication: October 6th 2020 |Pub: K. Elliott Enterprises, INC | Meet Me in Montana #3
The third novel in New York Times bestselling author Kelly Elliott's Meet Me in Montana series shows how family and true love can heal a broken past.
After her mother died in a car accident when she was only five, and her father was determined not to show any emotions toward his only daughter, Timberlynn longs for a normal family. What she hadn't planned on was finding that family in Hamilton, Montana—thousands of miles away from everything she's ever known in Atlanta, Georgia. She certainly didn't plan on falling for Tanner Shaw. A handsome, charming, cowboy who swept her off her feet the moment he looked at her with eyes the color of the Montana sky.
Tanner Shaw was lost and confused…living a life without purpose, traveling between one city to the next. With a longing desire for something he could not quite pinpoint, he heads back to his hometown in Montana to spend Christmas with his family and clear his clouded head. One look at Timberlynn standing in his family's kitchen, and his entire world is turned upside down. Or was it?
For once in his life, Tanner knew exactly what he wanted and was determined to prove to the only woman he had ever loved that what they shared was worth the risk. But winning Timberlynn Holden's heart wasn't going to be as easy as he thought. Can Tanner finally rope in the woman he loves, or will he be unable to help her mend her broken heart?
Good Enough is a stand alone novel in the Meet Me in Montana series.