Good Hands by Kelly Jamieson: Lala McGrath was a successful businesswoman in New York who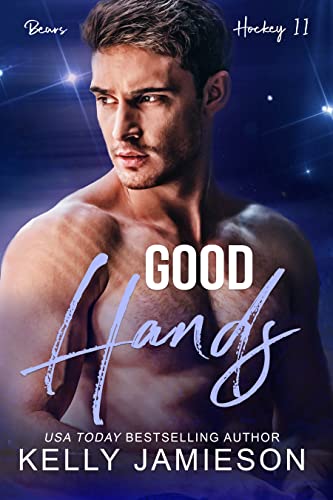 had no time for dating or relationships. She reluctantly took a vacation to Aruba with her friends where she meets Brandon the night before she leaves for home. She thought she would never see him again after that steamy night, but once they are both back in New York they keep running into each other. The attraction between them was volatile and since neither wanted a relationship a friend with benefits arrangement sounded perfect. Only Lala has a hard time separating her growing affection for Brandon and their arrangement especially after discovering she is pregnant.
Hockey player Brandon Smith grew up hearing his parents always arguing and felt like he was the reason they argued so much. As an adult, he hides behind his charming personality to avoid attachments and uncomfortable situations. He has no desire to get married or have children that would grow up feeling like he did. His feelings for Lala grow as they spend more time together, but he is still too scared to risk more. Discovering she is pregnant sends him into a downward spiral and he must do a lot of soul-searching, or he might lose Lala forever.
"I don't want to be friends. Or even friends with benefits. I want everything with you. I want to be your friend. Your lover. Your partner. We're having a baby and we didn't plan it, but I want that, too now."
This was a hockey romance with a vacation fling, friends with benefits, and a surprise pregnancy all in one. I was surprised by how strong the connection between Lala and Brandon was since they had a friend with benefits relationship, but the friendship side was very prominent. I loved the ease between their conversations and banter. As friends, they had fun together and offered each other encouragement, comfort, and understanding when one of them was feeling down. The surprise pregnancy threw their relationship into a backslide but once they started communicating their feelings, they were able to get past the misunderstandings. This was a fun and enjoyable book to read. I enjoyed meeting the team members and hope to see them in future books.
Book Info:

Publication: April 12, 2022 | Kelly Jamieson Inc | Bears Hockey II #2
A hookup doesn't have to mean just once. Right?
Brandon Smith
Keep it easy. Keep it fun. Never hold on. That sums up my relationship goals, with hockey teams and with women. I learned early on that love and family equals fights and heartache. So I'm always moving on to the next team, the next hookup, before things turn sour.
When I meet Lola at a tropical beachside bar, it's the perfect set up for a little hot vacation sex. She's gorgeous, funny, and most importantly, leaving for home tomorrow. But this time, I have a sinking feeling I'll be sorry to see her go.
Lola McGrath
I knew after that night in Aruba I'd never see Brandon again. That's fine; I'm too busy vying for the corner office to make time for relationships. But when our paths cross again in New York, our sizzling attraction leads to "just one more night". Then another. And another.
We never meant to become friends with this many benefits. Especially the one neither of us ever expected—or thought we wanted.