Only One Forever by Natasha Madison: Dylan Stone has the life anyone could dream off, not only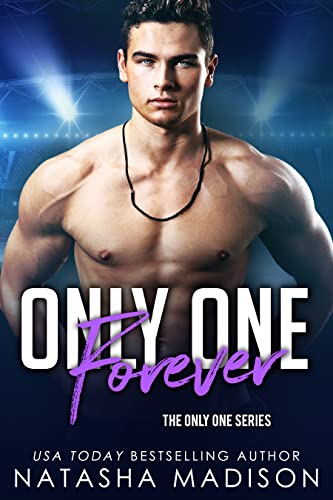 does he have a family that adores him but he is living his dream by playing professional hockey, but when his team take a massive hit and is pushed out of the running for the playoffs Dylan can't help but wonder if this is the push that he needed to revaluate his life and finally figure out what is the gaping void that he has been feeling all these years…he just never expected his new journey to take him to Dallas to be with his best friend Alex. This is when something changes for Dylan, he just can't help but look at Alex differently, could the girl that he grew up with be the very one to fill that empty whole in his heart?
For as long as she can remember Dylan has been apart of her life, her best friend really but for Alex there has always been more than just a few friendly feelings, to bad Dylan has never given her any reason to believe that he could feel the same way about her… which is exactly why Alex has now decided to pull on her big girl pants and try and unloved the only man that has ever truly owned her heart. But it would seem that fate has other plans in the form of a family vacation that is sure to change everything…
Goodness me this heart melting swoony friends to lovers romance was just perfection! I absolutely ate up the angsty build up as these two figured out their feelings for each other as they got a much needed push in the right direction. Only One Forever can be read as a stand alone novel but I would highly recommend read the other books in this series purely because you will find your self so invested in the lives and adventures of these character.
One of the things that really worked for me in this book was the deep personal relationship that Dylan and Alex shared, I loved that extra layer of friendship that came with being apart of each others lives from childhood. But good gosh was it hard seeing these two dance around their feelings for each other, there were a few moments that I just wanted to shared some sense into both of them! It was pretty clear that these two were two parts of one heart melting whole and once they figured out their story they were electric!
Dylan was such a fantastic character and getting to see him flourish was something else entirely. I loved that we get to see his story come full circle from being adopted and learning to be loved to fully embracing his family and the beautiful life that he has to loving his best friend so completely. I loved his protective and caring nature and that he never forgot where he came from. Getting to see his relationship with Alex bloom from friends into lovers was just one angsty beauty! I loved getting to see him realise that he has always had these feeling for Alex and getting to see him get all jealous over the idea of her being with another guy.
As for our girl Alexandra well simply put it was impossible not to just love her character. Not only was she a genuinely nice person but I just loved her relationship with her family and the bond that she had created with Dylan. But gosh did my heart go out to our girl, its no joke holding on to her feelings for Dylan for all these years and for him not to even realise them! Though this just made me love her character all the more, even though she had to keep her feeling hidden all these years they never once wavered.
Only One Forever is a definite must read this emotion packed friends to lovers romance will melt your heart and make you feel all warm and mushy inside. Also you are pretty much just going to love Maddox and the little bits that he adds to this book!
Book Info:

Publication: April 26, 2022 | Pub: Natasha Madison | Only One #8
From The Something So Series and the This Is series comes Only One Forever.
Dylan
My dreams came true when I was adopted at ten.
I was the best on the ice. Living the life of what every kid dreams of.
We've been best friends since then. Even when she was the annoying little sister following us around.
I would do anything for her.
It is another family vacation; except this time it feels different. Everything feels different.
Alex
All my memories have Dylan in them. From the first time I fell off my bike, to the time I got my heartbroken for the first time.
He's always been my protector, but it's time to let the dream of being his go.
One last family trip, one last goodbye.
Except fate steps in and has other plans.
At the end of the day, you only get one forever.