In Good Together by C.J. Carmichael, Mattie is stunned when her husband Wes of 19 years suddenly changes her whole life as she knows it…first he's leaving her, then he's selling the horses, and is planning to sell the ranch. The ranch and land that is Mattie's life, that she loves. In hindsight Mattie has seen little changes over the past while, but she never thought her marriage would fall apart. Wes is no help, he becomes hard to get a hold of and when Mattie does talk to him, he gives her no answers.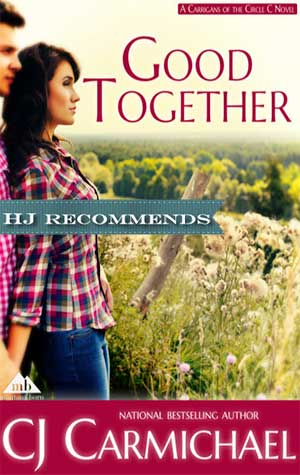 Mattie struggles, she falls apart, but then she picks herself up and pulls herself together and C. J. Carmichael takes us along with Mattie on her journey of guilt, anger, healing, acceptance and moving on.
Mattie's neighbour Nat, who has always been a friend to the entire family helps Mattie a lot on her journey. Mattie has always known he's hot, and suddenly she's feeling alot more than neighbourly toward him. The sparks are certainly there between them, and they are both cautious. Nat has secrets he hasn't shared and tries to push Mattie away, Mattie feels guilty that she is feeling the way she does about Nat. After all she's been through, will Mattie risk it all again?
Good Together is a touching story about a woman's growth, how love and relationships change, but romance can still be alive! The relationships in Good Together are complicated, and the mature character's C.J. gives us add so much dimension to Good Together with their life experiences. Mattie is easy to relate to whether or not you've been through divorce. The feelings she is experiencing make her life so very realistic. Mattie has some family issues that come up in Good Together, and I liked how C.J. tied this in so neatly with Mattie's sisters and their relationships.
Wes is a bit of an inigma…he really does just up and leave and there's not a lot of resolution from him. I felt like he was selfish and he was frustrating me as I read and lived through Mattie.
C.J. just makes Nat seem like the perfect man! He is mature, strong, caring and patient…but he doesn't want to burden anyone with his secrets. If he can let Mattie in I think they will be great together!
There are quite a few secondary characters in Good Together…but C.J. has smoothly written them in so it is easy to follow who is who and what the relationships are. You will recognize some of them from previous Montana Born Books (Copper Mountain Rodeo series) but if you haven't read these you can easily read Good Together as a stand alone. I really liked how C.J. gave us perspectives from Portia and Wren, Mattie and Wes's daughters. I also love the animals in Good Together…they can be so therapeutic and help give good feelings.
C.J. Carmichael writes a moving, intense story in Good Together. More than romance, it is one woman's struggle to start her life over unexpectedly. I'd recommend this to any reader looking for a great woman's fiction read with a strong romance flair!
Book Info:

Published February 3rd 2014 by Tule Publishing Group
Mattie's twin daughters have flown the nest, and she and her husband feel like strangers. The life she's known is starting to fall apart. She can't even count on her gorgeous neighbour, Nathaniel Diamond, any more. Nat was always there for her before, but now he's suddenly started avoiding her. Is there something that he needs to tell her?