In The Chance (Thunder Point #4) by Robyn Carr, Eric Gentry has been given the chance to start a new life in Thunder Point, the town where his teenage daughter Ashley lives. Having only recently found out he was a father, he builds a new business in town, taking over the old gas station and revamping it as a full service garage. Eric has learned to live life to the fullest after serving time for being in the wrong place at the wrong time and stays on the straight and narrow now. So when he finds himself attracted to newcomer Laine Carrington, who happens to be an FBI agent, Eric doesn't hold a lot of hope it could work out between them.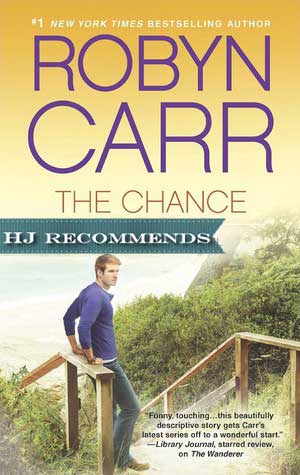 But fireworks go off every time they meet and before long, he can't imagine a day without the tough-as-nails beauty in his life.
"So, Friday night?"
"Yes," he said immediately. "Friday night." Then he grinned hugely. "You asked me out on a date. You asked me."
"I got very tired of waiting," she said with a bit of superior impatience.
"I've never been asked out on a date before."
FBI agent Laine Carrington is staying in Thunder Point for a year while recovering from a gunshot wound she suffered in an undercover investigation. Determined to take time to relax and plan what to do next, Laine falls in love with the rugged beauty the town has to offer. She's instantly interested in Eric when they run into each other at the local diner but after several chance meetings, it's clear she's going to have to take the lead. She learns of Eric's checkered past and hopes it won't deter him from pursuing a relationship when he finds out she's a federal agent. Between their dissimilar personalities, her family issues, and his demanding new business, they shouldn't work as a couple. But Laine has never felt so right about anyone in her life and plans to hang on to Eric for as long as possible.
"Nice meeting you, Laine. If you ever need any dents popped or rough edges smoothed out, I'm your guy," he said. When he saw Laine and Devon looking at him with wide eyes, he winced. But the women laughed.
"I'll keep that in mind," she said.
The Chance is a lovely romance about second chances. And Thunder Point seems to be the best place to go for people looking to start over and find their way again.
As always, Robyn Carr's writing was right on point. To me, she is the master of drawing a reader into a storyline and giving us several different characters to focus on that will somehow relate back perfectly to the plot. I find it so interesting every time I read one of her novels to see how their paths will cross, who will end up together or saving someone else. There's always a sense of community and camaraderie, even amongst the chaos life throws at Thunder Point's residents, which is truly heartwarming to read.
Laine and Eric were definitely a case of opposites attract. At first, I wasn't sure if I would like Laine as much as some other characters we've met. She was blunt, aggressive and liked to be in control. But I warmed to her as the story progressed and could see why Eric would be smitten by her. She was the polar opposite of his personality, but they seemed to balance each other out nicely. Eric was just as much of a solid, hunky, stand-up guy as was eluded to in previous books in this series. I enjoyed seeing how he had turned his life around and that being in Thunder Point near his daughter and friends helped him finally feel settled. Reading their playful banter was a treat as well!
The subplot this time was twofold: Ray Ann finds a love interest in Al, who works for Eric, while Justin (who also works for Eric) has to make tough decisions taking care of his sick mother and his two younger brothers. We get to catch up briefly with the other couples we've already met and see what's going on in their lives. I was hoping to see a little more interaction between Ashley and Eric, now that father & daughter live in the same town, but we did get to see them form a tentative relationship in previous books. I would say even though there are so many characters in this story, you could read this as a standalone. However, each book so far has been incredible, so why bother? I say check them all out! 😉
If you're a Robyn Carr fan like myself, you can't go wrong with The Chance. I think it's contemporary romance done just right.
Book Info:

Published February 25th 2014 by Harlequin MIRA | Series: Thunder Point
With its breathtaking vistas and down-to-earth people, Thunder Point is the perfect place for FBI agent Laine Carrington to recuperate from a gunshot wound and contemplate her future. The locals embraced Laine as one of their own after she risked her life to save a young girl from a dangerous cult. Knowing her wounds go beyond the physical, Laine hopes she'll fit in for a while and find her true self in a town that feels safe. She may even learn to open her heart to others, something an undercover agent has little time to indulge.
Eric Gentry is also new to Thunder Point. Although he's a man with a dark past, he's determined to put down roots and get to know the daughter he only recently discovered. When Laine and Eric meet, their attraction is obvious to everyone. But while the law enforcement agent and the reformed criminal want to make things work, their differences may run too deep…unless they take a chance on each other and find that deep and mysterious bond that belongs to those who choose love over fear.