Greek's Baby of Redemption by Kate Hewitt Milly loves the peace and serenity she's found while working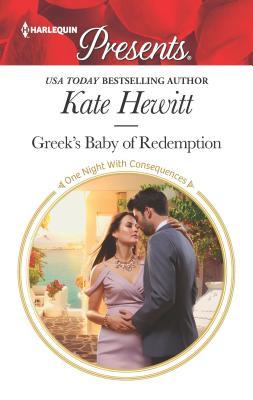 as Alex's housekeeper over the last six months. She loves the island and she doesn't even mind his gruff demeanor since he's at least honest. She's smart, loyal, honest, hard-working, and great with languages.
Alexandro has always lead a private life, but he's taken that to extremes since a tragic fire left him with scars. He's a smart, sexy, and modern-day Beast who expects little in life. Alex is a successful businessman with the homes and yacht to go with it. He's resigned to the life he's allowed for himself.
Alex is determined to secure his business by getting married and having an heir ASAP. His housekeeper, Milly, seems like the perfect candidate if only he can persuade her to agree. Milly is shocked by her enigmatic and closed-off boss' proposal, but she's also secretly intrigued. Neither are interested in love and both are surprised by their own physical reaction to each other.
'You're…you're not serious,' she finally stammered.
'I assure you, I am.'
'Why would you want to marry me?'
From a shocking proposal to a whirlwind marriage, both quickly learn marriage is more than they bargained for. Their relationship is awkward and stilted as they struggle to find their footing while Alex tries to retain some distance. They end up bonding over their own insecurities and childhoods and Milly discovers a stubbornness and backbone she needs. She pushes him out of his comfort zone and he makes her feel wanted and desired.
'Alex?' Milly straightened her skirt, looking uncertain. 'Why do you look as if you're not happy about this?'
'It's fine,' he said, which was no real answer at all. 'I just didn't expect…' he shook his head '…any
of this.'
'Right.' She smiled shyly. 'Can't we just…consider this a bonus?'
Greek's Baby of Redemption is an endearing yet sexy and modern Beauty and the Beast story. Kate Hewitt developed the characters and relationship through a rollercoaster of an arranged marriage, with the help of a meddling sibling. Fans of Jennie Lucas and Dani Collins will enjoy Greek's Baby of Redemption.
Book Info:

Publication:  May 21st 2019 | Harlequin Presents |
He needs an heir. She'll give him so much more…Scarred tycoon Alex Santos's Greek island estate is a fortress–protecting those outside from the darkness within him. When he needs a wife to secure his business, his discreet, compassionate housekeeper, Milly, agrees to his proposal. But their wedding night sparks an unexpected fire, and the consequences force Alex to face his painful past… Could Milly–and his unborn child–be the key to Alex's redemption?Escape to the Greek islands with this marriage of convenience