In The Southern Side of Paradise (Peachtree Bluff #3) by Kristy Woodson Harvey, After a lifetime of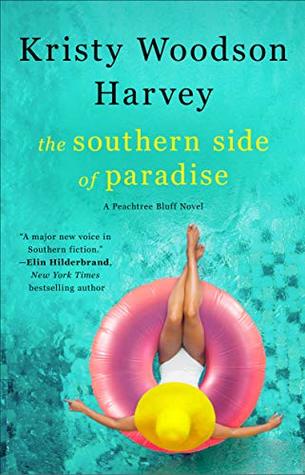 doing what needed to be done, putting others first, and trying to hide the things her three wonderful daughters don't need to know, Ansley Murphy might have found some happiness for herself. With her long lost love, Jack, back in her life–hopefully to stay–she should feel overjoyed. But those secrets she's kept hidden for decades are slowly leaking out. And Ansley knows there's nothing that can be done about it. Maybe it's time to come clean to her daughters, though, considering Caroline, Sloane and even her youngest daughter Emerson, are all grown enough to perhaps understand the choices she had to make years ago.
'After decades of hiding and scheming, of plotting and planning and worrying… My worst nightmare had come true. My secret was out. And there was nothing I could ever do to bring it back in.'
Actress Emerson Murphy has been enjoying her rising fame after years of struggling. Even while back in Peachtree Bluff, Georgia, visiting family, people are voicing their admiration of her talent. But it's her personal life that's giving Emerson grief at the moment. Her health has been wonky, which she honestly doesn't want to deal with now that she has a big role in a movie coming up. And her former high school sweetheart is putting pressure on her to give it another go between them. The last thing Emerson needs is to be tied down, or to be tied to Peachtree Bluff when L.A. is where she needs to be for her career. When a family secret is revealed, throwing her and her two sisters into a tizzy, she knows things will never be the same ever again for them all. And that she's not leaving until she at least begins to sort through the drama.
'Forever and always, the women flanking me and I would be those little girls building castles on the southern side of paradise. We would always be the Starlite sisters.'
What a stunningly emotional, completely satisfying conclusion to the Peachtree Bluff series! The Southern Side of Paradise found the Murphy "Girls" and their loved ones in the midst of unraveling secrets, navigating complicated relationships, and taking their next shaky steps towards a happy future.
'There we were: one mother, three daughters, a lot of tears, a lot of laughter. I knew then that no matter where life took us next, no matter what the future held, these women and this hug would always, always be worth coming home to.'
I've fallen in love with Peachtree Bluff and all its offbeat locals. Kristy Woodson Harvey has done a fantastic job of creating a small community with all its quirks and using it to add depth to an already intriguing family dynamic. Ansley and Emerson were the main focus in this installment but everyone else we've met since book one made an appearance as well–and even the secondary characters had secrets of their own that were revealed. How fun, right? But it was the personal journeys we took with Ansley and her former teenage sweetheart Jack, and Ansley's youngest daughter Emerson's career, health and romantic woes that certainly stole the show here.
What a complex history Ansley and Jack had together. I really think readers should start with book one and read these in order, if for no other reason than to watch how things build between the two when they are reunited. I adored Jack for all the sacrifices he made over the years and how his love for Ansley never diminished. She made some choices I might not have made myself in her shoes, but she truly did have her children's best interest at heart and was a terrific mother. Ansley and Jack's romantic path in this book was swoon-worthy, and I swear will have you laughing and crying happily by the ending. *sob*
Emerson. Boy she was a lot of fun to get to know. She could be impetuous and jump without thinking, as well as she had a tendency to be, ahem, over-dramatic. (She was an actress–and a darn good one–after all) Emerson was mulling over a lot of things in this book. She had a health scare, was seemingly on the cusp of her career taking off, and had a conflicted love interest in Peachtree Bluff to contend with. I loved watching her sisters step in to support and/or criticize her, as sisters do. And her mom Ansley tried to impart wisdom without pushing Emerson in any direction, as that generally made Emerson do the opposite. (lol) Honestly, I think it was Jack who really was the voice of reason that got through to her and the memories of advice her beloved grandmother had given her that made the difference.
I could almost taste the sweet tea, smell the ocean breeze and feel the warmth of the Georgia sun while reading The Southern Side of Paradise. An absolutely lovely work of Southern fiction, Kristy Woodson Harvey has outdone herself with this touching story.
Book Info:

Publication: Published May 7th 2019 | Gallery Books | Peachtree Bluff #3
From internationally bestselling author and "rising star of Southern fiction" (Mary Alice Monroe, New York Times bestselling author) Kristy Woodson Harvey comes the third novel in her Peachtree Bluff series, in which a secret threatens the tight-knit bond between a trio of sisters and their mother.
With the man of her dreams back in her life and all three of her daughters happy, Ansley Murphy should be content. But she can't help but feel like it's all a little too good to be true.
Meanwhile, youngest daughter and actress Emerson, who is recently engaged and has just landed the role of a lifetime, seemingly has the world by the tail. Only, something she can't quite put her finger on is worrying her—and it has nothing to do with her recent health scare.
When two new women arrive in Peachtree Bluff—one who has the potential to wreck Ansley's happiness and one who could tear Emerson's world apart—everything is put in perspective. And after secrets that were never meant to be told come to light, the powerful bond between the Murphy sisters and their mother comes crumbling down, testing their devotion to each other and forcing them to evaluate the meaning of family.
With Kristy Woodson Harvey's signature charm, wit, and heart, The Southern Side of Paradise is another masterful Peachtree Bluff novel that proves she is a "Southern writer with staying power" (Booklist).