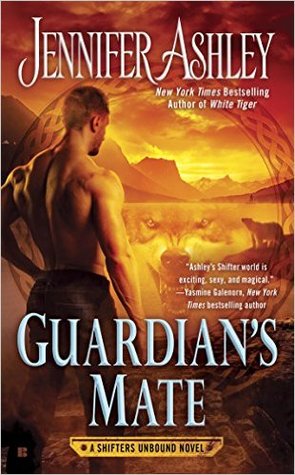 In Guardian's Mate (Shifters Unbound #9) by Jennifer Ashley, Polar bear Shifter and healer Zander Moncrieff has a propensity to be alone. So he doesn't take well to unwanted visitors like wolf Shifter and newly chosen Guardian Rae Lyall when she hops aboard his boat off the coast of Alaska. He knows nothing about being a Guardian but yet Zander is supposed to train her as well as keep her safe. His first thought is that she won't be able to handle her new role in the Shifter world but Rae proves she can take care of herself with every situation they encounter. Which further endears herself into Zander's heart and makes him decide to pursue the little wolf as a possible mate.
'When the Goddess chose, you either obeyed or you went insane. Zander was trying for both.'
Rae grew up already feeling like a loner where she was an orphan and didn't know what clan she came from. Her foster family made her feel welcome but now being chosen as the first female Guardian, she's once again an outcast. So when Rae meets wild, sexy Shifter Zander, she sees right away that he's also a bit lost. Together they form a strong team ready to overcome the craziness that seems to follow the polar bear Shifter around. And with a few Shifter and human additions to their group, Rae feels like she's found where she belongs. But when new threats aim to harm them and separate her from Zander, who has come to mean the world to her, she'll do anything to save them all.
'Was this what being Guardian meant? Having to choose between protecting those she cared about and always being Guardian first?'
Every time I think I've found my favorite couple in the Shifters Unbound series, Jennifer Ashley puts out a new book and I'm smitten with a new pairing of characters. But I think it's going to be tough for her to beat the touching relationship between Zander and Rae.
'…Zander didn't heal simply because the magic compelled him to, because he did a grudging duty. He truly wanted to help people, to make them whole again. …Why then, why, was this generous and large-hearted man all alone?'
Like with all of the books in this series, you can read Guardian's Mate as a standalone. Although, Jennifer Ashley has created such a wonderful world, I think you'll want to read every single story. If you're a fan of the series already, you've undoubtedly 'met' Zander the polar bear shifter-slash-healer-slash-empath before and you know his reputation for being a bit crazy. I have to say this book made me love him even more than I did before. It was so fun to finally get into Zander's head and see if the rumors were true. He ended up being a kind-hearted guy who felt the need to help others where he was a healer and empath, but yet he was also an adrenaline junkie who loved to live life to the fullest. Probably in part because he was a gigantic polar bear with not many enemies. 😉
"I'm a wolf, sweetie. She-wolves are the most ferocious of all. Haven't you heard?"
The answering glint in Zander's eyes ramped up Rae's excitement. He gave a mock sigh. "You're going to make my life hell, aren't you?"
"You better believe it, big-ass bear," Rae said, and hurried away before he could try to stop her.
Rae was a great addition to the Shifters Unbound world. I loved that she was the first female Guardian ever and that, after the initial shock that she was Chosen, she fought to be seen as a true Guardian and did her duty well. Her backstory was one that I think readers will find maybe a bit sad as she was an orphan, but it was inspiring to me that Shiftertown leader Eoin took her in and she was raised in such a loving foster family. Rae's bond with her foster dad and siblings was strong and sincere but she did feel at times that she was on the outside as she was Lupine and they were Feline. That was a feeling she shared with Zander where he was always seen as the outcast. He understood how difficult a path Rae had been set upon in life, both as an orphan and then as a Guardian and I loved that Zander was there to help guide her step by step.
There was quite a lot going on in the Shifter world as a whole this time around and some interesting tidbits of information were discovered that should make things complicated in future installments. I have a feeling that Zander, Rae and their bunch of quirky friends will be a big part of it all and that they'll be teaming up with other Shifters to keep each other safe.
Guardian's Mate sizzled with Zander and Rae's chemistry but it also had me laughing repeatedly at their antics. Between meeting a new type of Shifter, sightings of Jake the friendly Snake, Zander's crazy Russian friend Piotr, and a ton of action scenes that will make you hold your breath, this was one exciting, terrific ride!
Book Info:

 Published September 6th 2016 | by Berkley | Shifters Unbound #9
The New York Times bestselling author of White Tiger returns as primal desire draws two lone shifters into each other's arms…
She wasn't ready to lead…
Chosen as the Guardian of her Montana Shiftertown, wolf Shifter Rae Lyall is facing opposition—for no woman has ever been selected for this powerful position. Still adjusting to the new authority thrust upon her, Rae travels to train with Zander Moncrieff, a Shifter healer, tasked with teaching her about her new role and its responsibilities.
He wasn't ready to love…
A polar bear Shifter, Zander wears no Collar and follows no rules but his own. Rae finds him arrogant and demanding, yet compelling and intriguing. Zander has no wish to mate but the sassy Guardian is drawing him out of his shell, stirring feelings long suppressed. And when a new threat looms over Rae's home, she and Zander must race to the rescue, forced closer to danger…and to each other.