In Half Empty (First Wives #2) by Catherine Bybee, Trina Petrov knew her arranged marriage had an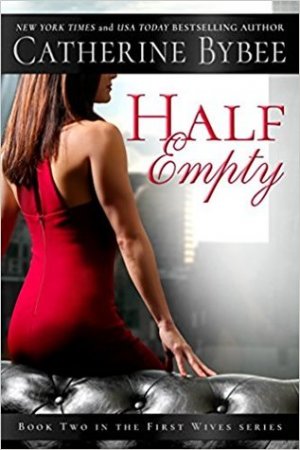 expiration date before saying "I do". But she never thought it would end before the contract was up, with her husband's apparent suicide. A year later, Trina is about to head back to Texas after spending time in Italy contemplating everything that's happened. Who knew it would be a charming, handsome country music singer who would shake up her life and turn into her protector when her world closes in around her? Wade Thomas is everything Trina would look for in a man. If she were looking, that is. Which she's definitely not. But as they traipse across the country, trying to stay one step ahead of whoever is threatening her life and those of her friends, Trina falls further until she's pretty sure she's met her match in Wade.
"There are a lot of women that tell me they love me."
Trina pushed her thoughts about all those women aside and looked Wade in the eye. "But I'm the one that means it."
On a break from touring and getting ready to head back into the studio, Wade wouldn't mind a distraction if it was in the form of the pretty woman sitting at the hotel bar next to him. But between Trina's sad eyes and her honesty in not knowing who he is, well, he can't let her go without getting to know her a bit better. Wade wasn't expecting to go on an adventure with her that would have them alternately sharing some steamy moments to then having to face down an unknown evil threat. But he's in it for the long haul. Wade is head over heels for Trina before he realizes it and can't wait to see what it will take to win her over. After they make sure she's safe, once and for all.
"You're pretty demanding," she said quietly.
"Oh, darlin', I'm one hundred percent demanding, which is probably why I'm still single. I'm also determined to get that half-empty look out of your eyes and replace it with sparkling lights."
There her smile was. Seeing it warmed his heart.
A country music hottie and a wealthy young widow set the pages on fire in Half Empty, the second installment in Catherine Bybee's First Wives series. Fantastic bantering, passionate romance, and an intriguing thread of danger led the way to a swoon-worthy happy ending you won't want to miss.
He wanted to kiss her. Wanted to throw his arms around her, spin her in a circle, and make her laugh with the silliness of it all.
He hesitated.
"Screw it." Four giant steps and he gave in to the desire.
I could not be more in love with Half Empty or with our main characters Trina and Wade. They were an absolute riot. What an entertaining, sensual couple they turned out to be. And I loved that they were so genuine with each other, which was something they couldn't be with many other people given Wade's fame and Trina's notoriety since her husband's death the year before. They might have been thrown together quickly where she had someone interfering in her life and threatening her, leaving Wade to stick around to try and protect her. But they made a wonderful team. And for Bybee fans, you'll likely recognize several people from some of her other series pitching in to lend a hand in Trina's situation. (But you'll have to check the book out to find out who…)
Trina was a bit of a mystery to me after reading book one. I felt bad for her losing her husband after a short arranged marriage and was hoping she would be a likeable, strong woman who didn't act like a bored socialite. Thank goodness she was about as tough, down to earth and relatable as you can get. Bybee did a great job conveying Trina's feelings: her grief and guilt, her hope for a resolution and a way to move on, and being so conflicted over what she started to feel for Wade. I had lots fun watching the evolution of their relationship. It started off in an almost silly, super flirty manner and from there paired them up as cohorts in crime, so to speak, as they traveled across the country (and a bit beyond) together.
Wade was quite the charmer. All alpha male with a to-die-for Texas drawl, he was also a romantic guy with a traditional view on romance. Even if he *was* a teensy bit of a player. But, hey…he was a country music star so I wouldn't expect him to act like a monk. (lol) I had to laugh over the cheesy lines he used on Trina and how hard Wade had to work to win her over completely. The story was made more interesting with his clingy ex, and his doubting mama who was opinionated and a tad overprotective. Not to mention the media circus that ensued wherever Wade went, which made it more complicated for Trina and her intense predicament.
Wade and Trina here in Half Empty just might be one of my favorite couples Catherine Bybee has gifted us fans with so far. Captivating, engaging, lively and dreamy, I simply could not get enough of this book.
Book Info:

Publication: July 31st 2018 | Montlake Romance | First Wives #2
New York Times bestselling author Catherine Bybee continues her sassy series with another of the First Wives finding that love and secrets are a dangerous combination.
Trina Petrov's marriage-by-contract was only meant to be temporary. But when tragedy strikes, Trina is left one of the wealthiest women in the world. To recover from the shock, she takes some time off in Italy, swearing not to fall for any men while there. But that doesn't mean she can't fall for anyone on the trip home…
Country-music superstar Wade Thomas is lying low in a hotel bar when he gets the cold shoulder from the woman next to him. He's used to fans fawning at his boots, and Trina is a refreshing change—so is the fact that she has no idea who he is.
As things begin to heat up, Trina discovers that the circumstances of her late husband's death are not what they seemed. Now she's in trouble, and Wade isn't about to let her out of his sight. Getting close to love and danger could get them killed…or it could sweep them both off their feet.