Hard Deal by Stefanie London is the second steamy romance in her Australian set Melbourne After Dark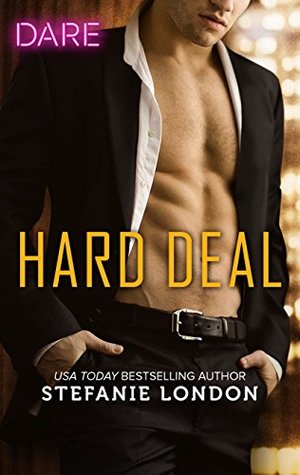 series. I really enjoyed the first story, Unmasked , and this story takes place concurrently (the heroines are roommates) but both are easily read as standalone romances.
Imogen Hargrove is determined that her experience with a cheating husband will not be her sister Penny's fate. After seeing her sister's fiance Daniel with another woman when he was supposed to be out of town she'll do just about anything to prove his guilt or innocence, including breaking into a masquerade ball to confront him. She realizes soon enough that she has the wrong man and can't resist indulging in a steamy kiss with the seductive stranger only to realize too late, that the reason he seemed somewhat familiar was that he's her boss's son. Oops!
Caleb Allbrook doesn't know what Imogen is up to but the sexy spitfire in her daring masquerade ball outfit is quite a revelation from the prim and proper executive assistant he's used to teasing and flirting with at the office. One brief stockroom encounter had him hankering for more, and when she tries to bribe her way out of revealing she'd crashed the ball by offering him a kiss, he's quite happy to take her up on it. At work the next day, all the secrets are out and they both know that the attraction between them is decidedly mutual.
When Imogen finds out that Caleb and his brother Jason who both work at the family company are friends with her sister's fiance, she enlists Caleb's help to find out if he's cheating on her sister in return for a date with Caleb. That date is a bit of sexual self discovery as Imogen finds she and Caleb have an interest in some shared kinks, like semi-public sex. It's the start of a hot and steamy affair in and out of the office that could have serious consequences if people found out. But more importantly, as Imogen and Caleb grow closer emotionally, will the consequences to Imogen's heart be worth the risk?
I loved this steamy and passionate romance! It's definitely one of my favorite Dare reads to date, and an excellent example of how consent can be seamlessly woven into a modern sexy romance. Caleb never does anything without checking in with Imogen and giving her plenty of chances to make her feelings and desires known so that even though their sex involves some risk of discovery, it's never outside of her comfort zone.
Caleb and Imogen have different baggage to contend with that affects their growing relationship. Things between Caleb and his father who owns the company (and who Imogen works for directly) are strained. Caleb has the reputation of being a playboy and not taking work seriously, so his father while giving him a job at the company rarely listens to his ideas. It's frustrating for Caleb, and also affects his relationship with his older brother who is seen as a golden boy in comparison. He has lots of marketing skills but they are unappreciated where he is now, and figuring that out is part of his growth as a character in this story. Caleb's little acts of rebellion, like wearing geeky socks under his respectable business suits are signs that he's just waiting for his chance to break free and be his own man, on his own terms.
Imogen's ex-husband really did a number on her self esteem and her ability to trust in herself. She'd married young against the advice of her family and it had turned out that they were right. Now it's several years later, but she still hasn't figured out how to trust a man again, especially a charming,funny, and sexy one like Caleb who is a lot like her ex. Whether it's better to end things before they get too serious or trust Caleb to continue to be the man he's shown himself to be is her struggle. The fun and flirty woman she'd been before her marriage is given a second chance when she's with Caleb who brings out all those good qualities in herself that she'd buried for so long.
Stefanie London has really found her niche with this sexy and fun series. Interesting and likable characters, steamy encounters and emotional connections make for a delightful read.
Book Info:

Publication: Sep 01, 2018 | Harlequin Dare | Melbourne After Dark #2
For one night only, Imogen Hargrove is a sexy spy. She's donned a mask for the Carmina Masquerade Ball, where she hopes to catch her sister's cheating fiancé, Daniel, in the act. But she's the one who gets rumbled when she strays too close to her target—only to realize she's been tailing the wrong man. A searing kiss makes her forget her mission altogether, and the mysterious stranger awakens something inside her: a burning passion she hasn't felt since the brutal breakup of her last relationship.
Imogen is mortified to discover that the man behind the mask is her colleague, notorious womanizer Caleb Allbrook. He's the last person she wants to get close to, and she doesn't need another playboy in her life. But that kiss has her curious—besides, Caleb knows her sister's fiancé and could prove very useful in digging up dirt.
She makes a deal: she'll go on a date with Caleb in exchange for information on Daniel's affair. But Caleb's irresistible charm turns a casual conversation into a night of sultry seduction. Imogen knows Caleb is bad news—yet he makes her feel sexier than any man ever has. Can she pull herself away from yet another toxic relationship, or will Caleb prove there's more to him than just sex appeal?