Boy Toy by Sarina Bowen and Tanya Eby is the third story in the author duo's Man Hands series. I hadn't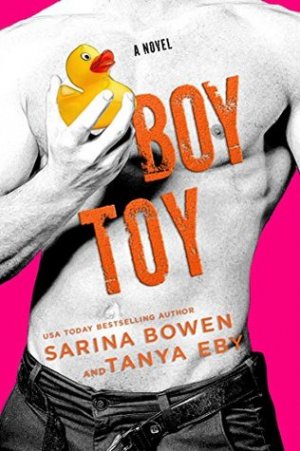 read the previous books in the series but found this easy to read as a standalone romance and a delightful one at that!
Sadie Matthews is a recently divorced mom of two year old twin girls. Adjusting to all that entails means she's bringing the girls to a new daycare, where to her surprise, she knows one of the childcare workers. It's Liam McAllister, once a grade 8 teenager in a family of four children that she used to babysit. He's grown up nicely, a handsome now 29 year old who is specializing in child development and is at ease playing tea party with toddlers or something a little more daring – like pursuing the woman who once captured his teenaged imagination.
When Liam fills in as a babysitter for Sadie when she's in a pinch, he starts to find a place in Sadie's life as a friend and then a lover. But Sadie is still conscious of being a few years older than Liam, and Liam is waiting for a fall study assignment that will likely take him out of the country. Plus, she's wary to have her kids get attached to a man in their life who will soon be leaving. Is there a future for them or will a summertime fling become just a distant memory?
If you are looking for a lighthearted, fun, sweet and sexy read, this is the romance for you! From the start there are laugh out loud moments with the authors showing that they understand what it's like to have young children and making twins Kate and Amy realistic in their differences in character and temperament. The twins' father Decker is still in the picture, a man who cheated on Sadie and is now with his new girlfriend. While their relationship is a bit strained (understandably), they share custody and take care not to bad mouth each other in front of the children. The girls are mostly with Sadie and Decker is not very reliable at meeting his commitments which is frustrating for Sadie who still wants their children to have a relationship with their father.
In contrast, Liam is a breath of fresh air. He's comfortable around kids and can take a crying child and distract them to make things better. With Sadie, he is the partner she's been missing, in the kitchen, the family room and in the bedroom. Their sex scenes are fun and steamy and the fact that they are friends too makes their emotional connection stronger as the days go on. Liam wants Sadie to take him seriously as a life partner and not just a 'boy toy' which is hard for Sadie with their age difference. Sadie's best friends Brynn and Ash (characters in the first two stories in the series) are all for her getting back in the relationship game and have no qualms about pushing her to see what Liam is offering if she'll just take it. Eventually Sadie and Liam figure out a way to get to their happy ending. I look forward to catching up on the rest of the series!
Book Info:
Publication: Aug 14, 2018 | Blunderwoman Productions |

A brand new romantic comedy from your favorite snort-laughing duo!
Liam
The moment Sadie Matthews walks through the daycare center door, I feel my world tilt in her direction. Again. I fell for her when I was fourteen, and I'm still not over her. Problem: she still thinks of me as a teen she used to babysit. But I've learned a few things about pleasing a woman in the last fifteen years. I can't wait to show her how good it could be. I need to move quickly before I lose her again. This is more than a game to me, but I still plan to win.
Sadie
I've just survived the worst year of my life. As a single mom of twin toddlers, I don't have time for a man. I barely have time to finish a thought. Who knew that Liam McAllister would grow up to be so devastating? He's everything my husband was not: tall, built, and willing to have a tea party with my girls.
I can't possibly get involved with him. He's too young for me. Too handsome. But he's so persuasive…