In Hard to Handle (Play Hard #1) by K. Bromberg, Dekker Kincade would do anything for her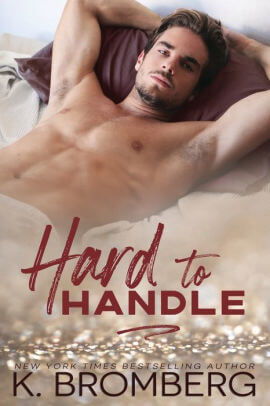 father and the family business he's painstakingly grown over the years. So when he asks her and her three sisters to each sign a particular athlete to their agency, she thinks it's a done deal. But Dekker's assignment turns out to be a man she had a friends with benefits arrangement with about three years ago, pro hockey player Hunter Maddox. He's gorgeous, talented, and more recently…troubled. Dekker knows with their strong connection she can help him out of his funk and likely sign him on to their roster. But keeping her attraction to Hunter–and those pesky feelings she's had for him forever–out of the mix, well, that will be the true challenge.
'Could he be just as fearful of letting someone in as I am? If so, how do I push him past that–how do I push myself past that–to give us a chance?'
Hunter knows he's either on the verge of seeing his dreams come true and helping his team win the Stanley Cup, or he's on a path to self-destruction. Considering his past and the guilt that plagues him it's kind of a fine line between the two outcomes. The last thing Hunter needs right now is to be reminded of what could have been. But that's what happens when beautiful sports agent Dekker begins to travel along with his team. He's not sure what her motive is. But Hunter would give anything to lose himself in her charms for just a few hours. Anything to get back the feeling of peace he always felt when they were together. It's not the right time, though, with Hunter's past catching up to him and what feels like the weight of the world on his shoulders. But then again, maybe Dekker is the key to finally finding the peace of mind he's always craved.
'All I want is her.
All I need is her.
She quiets the demons.
She sees me–the real me–and that scares the ever-loving shit out of me.'
Sports romance doesn't get much sexier or more heartfelt than Hard to Handle. K. Bromberg's new series certainly started off on the right foot with all kinds of angsty goodness and with promises of so much more turmoil and romance to come.
"I know you're a good person, Hunter Maddox. I know you bust your ass day in and day out chasing a ghost no one can see, and I know it has to be a merciless burden that you carry,"
There is just something about a K. Bromberg story that gets me all tied up and in a flutter over her characters as well as the difficult situations she puts them through. With Hunter and Dekker, what they both had to overcome was all about their families. I'm not going to lie…I was frustrated with each of them a few times–and in Hunter's case, with a couple of his relatives, too. But, oh my heart. His tragic past was something we learned about one chunk of information at a time throughout the story, explaining how Hunter became the guilt-ridden, grief-stricken, talented hockey player he was today. It made me heartbroken and teary eyed. It made me frustrated. But it also showed the incredible strength, the resilience Hunter found through terrible circumstances, which made me cheer him on that much harder.
Dekker, boy, she was one feisty but lovable heroine. And loyal–both in her personal life and her professional life. She also had tragedy strike her family at a young age which changed her whole perspective on love and life. Without giving too much away, let's just say that she matched Hunter in the whole not trusting department. But Dekker was persistent once she eventually realized she could not only help Hunter but that what they had was something worth fighting for. And I loved her for that. It certainly was a fight to get them both on the same page, with their egos, attitudes (wow did they argue!) and lust warring constantly. I thought Bromberg had a nice balance, though, between the darker emotional scenes and others that either gave a bit of levity or added sensuousness to the story. It worked perfectly for our volatile couple.
An engrossing story of healing, triumph, and second chances, K. Bromberg created realistically flawed and oh so likable characters who readers won't be able to help but fall for right away. But be forewarned, keep some tissues at the ready for the emotional roller coaster Hard to Handle will lead you on. (P.S. It was worth every tear.)
Book Info:

Publication: Expected publication: June 30th 2020 | by JKB Publishing, LLC | Play Hard #1
Hard to Handle, book one in the Play Hard series, an all new series of standalone books by New York Times bestselling author, K, Bromberg.
When four sisters set out to save their family business, each one sets their sights on a different client to help them succeed.
At first, the request seemed simple—sign a new athlete to the agency.
Then I found out the new athlete was none other than the most wanted man in hockey today: Hunter Maddox
Gifted. Sexy. At the top of his game. And the only man who has ever broken my heart.
If signing him will help save our family business, I'll swallow my pride and do what's asked.
But when it becomes clear his uncharacteristic antics off the ice are a hint of something deeper, keeping things strictly professional between us becomes more than complicated.
But I know better than to cross that line.
I'll never date a client. Not even for him.
***
Win the Stanley Cup and do it before time runs out.
Not a small feat, but it's what's motivated me since the start of my career.
And time is running out.
Enter Dekker Kincade.
Feisty. Dogged. Damn gorgeous. The one I let get away.
I have no idea why she's traveling with the team, but hell if resisting her is going to be easy.
But I have a job to do, and I refuse to lose sight of that end game. Even if she confuses me. Even if she sees parts of me I've hidden from the world.
I can't lose focus. Not even for her.